Common names
Kawekaweau gecko
Delcourt's giant gecko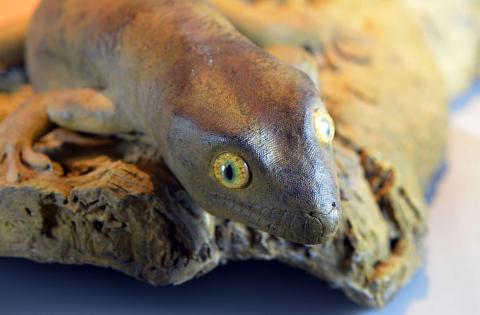 Kawekaweau are an extinct species of gecko, known from one mounted specimen held at the Natural History Museum in Marseille, France (discovered in the basement in 1986). The species is the largest of all gecko species (370mm snout to vent), the specimen has a yellowish/brown dorsal surface with darker reddish/brown stripes running longitudinally down the body. It is believed to be an endemic species to New Zealand, recorded in Māori oral stories.
References
Bauer, A.M., & Russell, A.P. (1986). Hoplodactylus delcourti n. sp. (Reptilia: Gekkonidae), the largest known gecko. New Zealand Journal of Zoology, 13, 1, 141-148.
Gill, B.J., & Whitaker, A.H. (2007). New Zealand frogs and reptiles. Auckland: David Bateman Limited.
Hitchmough, R.A., Anderson, P., Barr, B., Monks, J., Lettink, M., Reardon, J., Tocher, M., & Whitaker, T. (2012). Conservation status of New Zealand reptiles, in New Zealand Threat Classification Series 2. DOC: Wellington.
Jewell, T. (2011). A photographic guide to reptiles and amphibians of New Zealand. Auckland: New Holland Publishing Ltd.