Oligosoma stenotis
Oligosoma stenotis
Small-eared skink
Oligosoma stenotis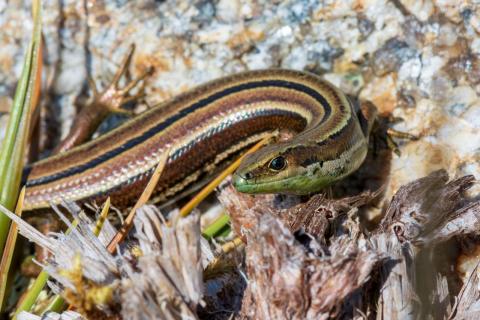 Herpetofaunal category
NZ Skinks
Conservation Status
Threatened - Nationally Vulnerable
Length: SVL up to 75mm, with the tail being equal to or longer than the body
Weight: up to 6 grams
Description
A strikingly beautiful skink from the alpine regions of Stewart Island.
Small-eared skinks are characterised by a distinctive black mid-dorsal stripe edged by yellow, which runs from the neck to the base of the tail, the presence of a keeled tail, and its relatively small ear openings. Upper surfaces are yellow-brown to green-brown, with the aforementioned mid-dorsal stripe, a brown band bordered by cream or yellow stripes is present on the sides. The lower surfaces range from grey-brown to yellow with some individuals having sparse dark flecking.
Distinguished from co-occurring Oligosoma species by the presence of the keeled tail, small ear openings, and the prominent mid-dorsal stripe.
Life Expectancy
Unknown.
Distribution
Confined to the alpine regions of Stewart Island.
Ecology and Habitat
A diurnal species, occurring in the alpine zone above the treeline, they are often found associated with boulder field, tussock grassland, and herb field habitats. It is possible that as with some other species of small skink that they may utilise invertebrate burrows as retreat sites (pers. comm Tony Jewell).
Social Structure
Solitary.
Breeding Biology
Viviparous. Little is known about the breeding biology; however, birthing is likely to take place in November with up to 2 live young born.
Diet
As with most of our native skinks, this species is omnivorous feeding on both invertebrates (spiders, insects and amphipods), and small fruits.
Disease
Largely unknown.
Conservation status
The major threats for this species come in the form of predation by mammalian pests (rats, mice, possums, and feral cats). Climate change may also be a cause for concern due to their confinement to alpine habitats.
References
van Winkel, D., Baling, M., & Hitchmough, R. (2018). Reptiles and Amphibians of New Zealand: A Field Guide. Auckland University Press, pp376.