Oligosoma kokowai
Oligosoma kokowai
Northern spotted skink
Oligosoma kokowai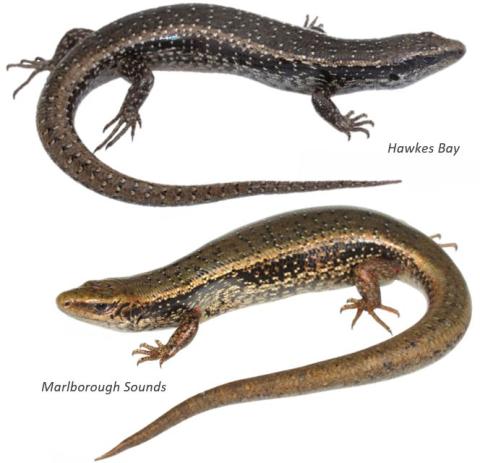 Herpetofaunal category
NZ Skinks
Conservation Status
At Risk - Relict
Previous scientific names
Oligosoma lineoocellatum,
Leiolopisma lineoocellatum,
Leiolopisma festivum.
Length: SVL up to 95mm, with the tail being equal to or slightly longer than the body length
Weight: unknown
Description
A large, conspicuous, and often beautifully coloured skink from central New Zealand.
The dorsal colour of northern spotted skinks can vary from brown-grey to a bright olive green, with lighter-coloured dots (ocelli) and dark speckles scattered along the back and tail. Northern spotted skinks may have cream-coloured dorsolateral stripes, the flanks are often dark with lighter speckling, and the ventral surface (belly) is often strikingly coloured with bright crimson red or orange.
Life expectancy
The longevity of northern spotted skinks has been estimated at around 8-14 years in the wild.
Distribution
Northern spotted skinks have a broad distribution. The northern-most population near Napier is relatively isolated, scattered populations occur in the southern North Island, with a large population on Matiu/Somes Island in the Wellington harbour. In the South Island they are abundant on several islands in the Marlborough sounds, and occur on the mainland in scattered populations from Nelson to St Arnaud.
Ecology and habitat
Northern spotted skinks are avid-sunbaskers and bold in character, making them a particularly conspicuous species. They prefer open/sunny areas such as boulder beaches, sand dunes, open coastal forest and scrub, as well as grassland, shrubland and scree slopes at inland sites. They are mainly terrestrial, but will also climb shrubs or branches to forage for insects and berries above ground. When not basking or foraging, northern spotted skinks will take refuge under coastal debris, rocks, logs, in dense vegetation such as thick grass or flax (Phormium spp.), and will often use seabird burrows on offshore islands.
Social structure
Largely unknown. In captivity, northern spotted skinks have displayed strongly territorial behaviour. However, on some islands they exist in relatively dense populations, and can often be observed basking in close proximity to conspecifics (other individuals of the same species).
Breeding biology
Female northern spotted skinks can produce up to four young per litter in late summer or early autumn.
Diet
In common with other species of New Zealand skink, the diet of northern spotted skinks includes a wide range of invertebrates, and the berries / fruit of native species.
Disease
Northern spotted skinks have been recorded with species of ecto-parasitic mites.
Conservation strategy
Northern spotted skinks are regarded as 'Relict' and rare on the mainland, but are secure on several islands near Wellington and in the Marlborough Sounds.
Northern spotted skinks were translocated to Mana Island and Zealandia sanctuary from Matiu/Somes Island in Wellington Harbour.
Interesting notes
Northern spotted skinks were named for the bright red colouration on their ventral surface; 'kōkōwai' meaning to be dark red, crimson or auburn in Māori.
Northern spotted skinks are members of the spotted skink species complex. 'Spotted skinks' are a group of four closely-related species which are difficult to distinguish morphologically (based on appearance) and were originally regarded as one variable and widely distributed species - Oligosoma lineoocellatum (of which the Canterbury spotted skink has retained this scientific name). Spotted skinks are regionally distributed from the southern North Island to the central South Island. Other species include the Canterbury spotted skink (Oligosoma lineoocellatum), Mackenzie skink (Oligosoma prasinum) and Marlborough spotted skink (Oligosoma elium).
References
Hitchmough, R.A., Barr, B., Lettink, M., Monks, J., Reardon, J., Tocher, M., van Winkel, D., Rolfe, J. (2016). Conservation status of New Zealand reptiles, 2015; New Zealand threat classification series 17. Wellington: New Zealand Department of Conservation.
Jewell, T. (2011). A photographic guide to reptiles and amphibians of New Zealand. Auckland: New Holland Publishing.
Robb, J. (1986). New Zealand Amphibians & Reptiles (Revised). Auckland: Collins, 128 pp.
van Winkel, D., Baling, M. & Hitchmough, R. (2018). Reptiles and Amphibians of New Zealand: A Field Guide. Auckland: Auckland University Press, 376 pp.