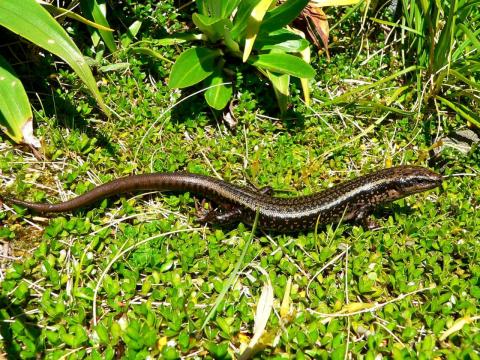 The sinbad skink was discovered in 2004 by Tony Jewell, being formally described in 2008. The harsh terrain and weather conditions in the Sinbad Gully mean that observations are difficult and little is yet known about the species.
Description
Dorsal (upper) surface glossy black with varied amounts of bright green flecks. Flanks are black with irregular pink or grey spots. Throat dark grey, belly a vivid orange/pink.
Sinbad skink reach SVL (snout-vent-lengths) of up to 91mm. Toes and tails are very long.
Life expectancy
Unknown.
Distribution
Sinbad Gully, Fiordland.
Ecology and habitat
Sinbad skink inhabit the alpine zone at 1100m. Found amongst small pockets of alpine herb and grass on near vertical rock walls. Fast moving and agile. The species are believed to be diurnal and are avid sun baskers.
Social structure
Unknown.
Breeding biology
Largely unknown, likely oviviparous as with all but one of the Oligosoma species.
Diet
Unknown.
Disease
Unknown.
Conservation strategy
DOC classify Sinbad skink as 'nationally endangered' with a small, stable population of 250-1000 mature individuals. The species has been given high regional priority with urgent surveys conducted since the species was discovered. The species are at high risk of extinction as a result of predation by introduced predators and their limited and specific habitat requirements.
Click here to read more about DOC's Sinbad Gully Sanctuary Project
Interesting notes
The name means 'mountain climber' in Maori.
References
Bell, T. P., & Patterson, G.B. (2008). A rare alpine skink (Oligosoma pitakanga n. sp. (Reptilia: Scincidae) from Llawrenny Peaks, Fiordland, New Zealand.
Hitchmough, R.A., Barr, B., Lettink, M., Monks, J., Reardon, J., Tocher, M., van Winkel, D., Rolfe, J. (2016). Conservation status of New Zealand reptiles, 2015; New Zealand threat classification series 17. Wellington: New Zealand Department of Conservation.