Woodworthia "Central Otago"
Woodworthia "Central Otago"
Schist gecko
Woodworthia "Central Otago"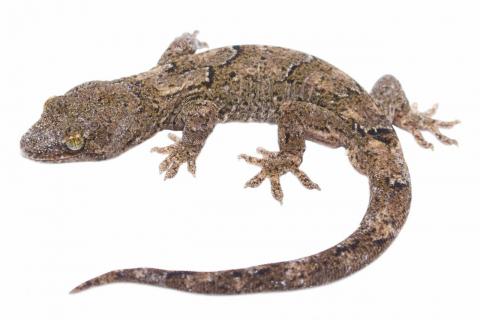 Herpetofaunal category
NZ Geckos
Conservation Status
At Risk - Declining
Previous scientific names
Common names
Schist gecko,
Central Otago gecko.
Length: SVL up to 71mm, with the tail being equal to the body length
Weight: unknown
Description
A brilliantly camouflaged species of Woodworthia found amongst schist rock in Central Otago. Schist geckos typically have a brown, olive-brown, or grey dorsal surface with pale bands, blotches or stripes. Schist geckos have a very indistinct canthal stripe or no canthal stripe at all, unlike some other species of Woodworthia. This species has a pale, speckled, or uniform ventral surface. The mouth interior is is pink, with a pink tongue and grey tongue tip. Schist geckos possess brown, green-grey, or yellow eyes. The rostral scale is in contact or virtually in contact with the nostrils (van Winkel et al. 2018; Jewell 2008). 
Life expectancy
Unknown. Presumably long-lived like other Woodworthia (e.g. more than 25 years).
Distribution
This species is found in the Clutha Valley between Clyde and Beaumont, the southern Raggedy Range, Rough Ridge and in the lowland between these ranges.
Ecology and habitat
Schist geckos are a cathemeral, terrestrial species that is most active at night, and can often be found hunting on the surfaces of schist outcrops or amongst dense vegetation. Like other Otago Woodworthia, this species is highly gregarious and can often be found in large numbers in suitable retreats. Schist geckos are found in rocky areas dominated by schist, but can also be found in dry rocky shrubland, where they will seek refuged under loose pieces of rock (van Winkel et al. 2018; Jewell 2008). 
Social structure
Highly gregarious and can be found in high numbers within single retreat sites.
Breeding biology
Sexually mature at about four years. Reproduce annually, with young born in February.
Diet
Predominantly insectivorous, but may also feed on the fruits of small shrubs. 
Disease
Unknown.
Conservation strategy
This species is not being actively managed. 
Interesting notes
Schist geckos are members of the 'common gecko' complex, a group of closely related species which are regionally distributed throughout New Zealand. Historically, most of these were considered a single highly-variable species - Hoplodactylus maculatus (the so called 'common gecko'). The 'common gecko' has now been separated into over ten different species.
References
Jewell, T. (2008). A photographic guide to reptiles and amphibians of New Zealand. Auckland: New Holland.
van Winkel, D., Baling, M., Hitchmough, R. 2018. Reptiles and amphibians of New Zealand – a field guide. Auckland university press, Auckland New Zealand.