Woodworthia korowai
Woodworthia korowai
Korowai gecko
Woodworthia korowai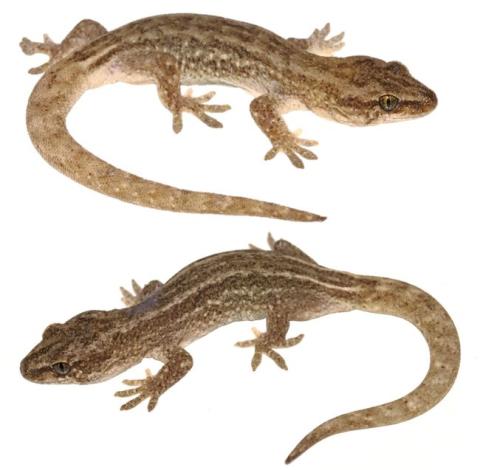 Herpetofaunal category
NZ Geckos
Conservation Status
Threatened - Nationally Vulnerable
Previous scientific names
Hoplodactylus maculatus,
Woodworthia aff. maculata "Muriwai".
Common names
Korowai gecko
Muriwai gecko
Length: SVL up to 69mm, with the tail being longer than the body length
Weight: unknown
Description
Formerly known as the Muriwai gecko, the Korowai gecko is a distinctively striped, very rare and localised species, known only from the west coast of Auckland.
Colouration is a unique sandy brown or grey. Head with dark canthal stripes and a stripe of similar colour running down the centre of the snout, top of head with inverted 'V' marking between the eyes often continuing posteriorly to form a circular marking on the nape of the neck. Korowai geckos are usually distinctively striped on the dorsum; an indistinct mid-dorsal stripe may be present, with more prominent and notched stripes at the edges of the dorsum. Stripes are a lighter tone of the background colour, and converge / terminate on the dorsum just anterior to the tail base. Flanks have a dark dorsolateral stripe above which initiates as a canthal stripe, runs through the eye, above the forelimb and hindlimb then terminates at the base of the tail. Dorsolateral stripe is bordered below by a light stripe of similar colouration to those on the dorsum. Usually heavily speckled with light flecks on the lower edge of the lateral surfaces. Tail with a series of irregular light blotches on the dorsal surface. Ventral surface is pale pink-grey and uniform / unmarked.
Can be separated from the Pacific gecko (Dactylocnemis pacificus) by separation of the rostral scale from the nostril (versus rostral scale in broad contact with nostril for D. pacificus). Similar in appearance to the Raukawa gecko (Woodworthia maculata), but geographically separated (west coast vs east coast) and with much shorter distal phalanges.
Life expectancy
Unknown.
Distribution
Korowai geckos are known only from Muriwai beach north to south Kaipara head, Oaia Island and Woodhill forest on the west coast of Auckland. 
Ecology and habitat
Korowai geckos are strictly nocturnal, but will cryptically sunbask next to cover / refuge sites (Nick Harker, pers. obs.). They are also an alert and fast moving species, capable of leaping significant distances with accuracy (Nick Harker pers. obs.).
On Oaia Island, Korowai geckos inhabit areas of loose rock and prostrate vegetation such as New Zealand iceplant (Disphyma australe). On the mainland they inhabit sand dunes and forestry road margins (potentially occuring in forestry) where they take refuge in dense vegetation such as Toetoe (Austroderia splendens), Pampas grass (Cortaderia selloana), and Muehlenbeckia sp., or under driftwood, loose bark and anthropogenic debris when not active.
Social structure
Unknown, but likely similar to other Woodworthia spp. and may form aggregations in suitable habitat where the density of predatory mammals is controlled.
Breeding biology
Breeding biology is poorly known.
Diet
Little is known about the diet of Korowai geckos. In captivity they have been recorded feeding on a wide variety of invertebrates including flies, moths, isopods and fruit (Nick Harker pers. obs.)
Disease
Unknown.
Conservation strategy
Korowai geckos were only recognised as a separate species from the more widespread Raukawa gecko during the mid-2010's. At this time they were already highly localised and in a critical state. Since then surveys have been undertaken to better understand their distribution, life history, and causes of decline. The results from these surveys will inform DOC about methods to recover the species.
They currently occur at only one pest free location (Oaia Island). On the mainland they are vulnerable to predation by introduced mammals such as rats, mice, mustelids, hedgehogs and cats. They are also vulnerable to habitat destruction from four-wheel drivers, who have caused damage to dune vegetation / habitat at several locations where Korowai geckos occur.
Interesting notes
Korowai geckos are close relatives of the Raukawa gecko (Woodworthia maculata), a species that occurs on the eastern coasts of the northern North Island, including many islands in the inner Hauraki Gulf (less than 40km away from Muriwai). Both species are exclusively coastal in the Auckland region - possibly because they are out-competed by Pacific geckos (Dactylocnemis pacificus) further inland - so their ranges do not overlap.
They were first recorded from Oaia Island on 21 September 1954 when ornithologist A.T. Wightman reported finding two geckos under rocks while conducting seabird surveys. Further specimens were reported from Oaia Island and the sand dunes at Muriwai up until 2010, but regarded as the more widespread Raukawa gecko. It wasn't until 2012/2013 - when a Korowai gecko was collected from Woodhill forest and surrendered by a member of the public - that herpetologists were able to examine their morphology in closer detail and realised they may be a distinctive species. Subsequent genetic analyses conducted in 2014 on this animal and several individuals from Oaia Island confirmed them as genetically distinct.
References
Hitchmough, R.A., Barr, B., Lettink, M., Monks, J., Reardon, J., Tocher, M., van Winkel, D., Rolfe, J. (2016). Conservation status of New Zealand reptiles, 2015; New Zealand threat classification series 17. Wellington: New Zealand Department of Conservation.
Hitchmough, R., Barr, B., Knox, C., Lettink, M., Monks, J. M., Patterson, G. B., Reardon, J. T., van Winkel, D., Rolfe, J., & Michel, P. (2021). Conservation status of New Zealand reptiles, 2021. New Zealand threat classification series 35. Wellington: New Zealand Department of Conversation.
Melzer, S., Hitchmough, R., van Winkel, D., Wedding, C., Chapman, S., & Rixon, M. (2022). Conservation Status of Reptile Species in Tāmaki Makaurau/Auckland. Auckland Council technical report TR2022/3.
van Winkel, D., Baling, M. & Hitchmough, R. (2018). Reptiles and Amphibians of New Zealand: A field guide. Auckland: Auckland University Press, 376 pp.
van Winkel, D., Wells, S., Harker, N. & Hitchmough, R. (2023). On the sand and among the crowds: a new species of Woodworthia gecko (Reptilia: Diplodactylidae) from Auckland, Aotearoa/ New Zealand. Zootaxa, 5374 (2), 263-294. doi: 10.11646/ZOOTAXA.5374.2.7