Woodworthia sp.
Woodworthia sp.
Tikumu gecko
Woodworthia sp.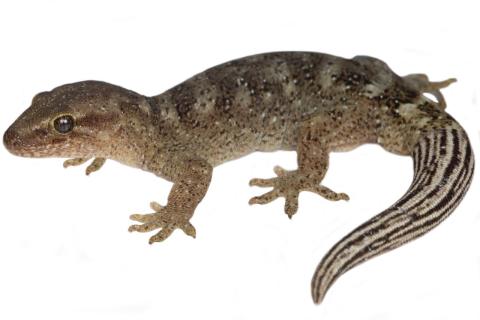 Herpetofaunal category
Native
Conservation Status
Data Deficient
Common names
Tikumu gecko
Sabine gecko
Length: SVL up to 71mm, with the tail being equal to or longer than the body length
Weight: unknown
Description
A newly-discovered species of Woodworthia that is yet to be formally described. 
Only two individuals have ever been recorded. However, they both possessed a grey, brown, or olive dorsal surface, with indistinct, pale bands. They also both possessed a subdued galaxy-like pattern comprised of small white spots. Their ventral surface was pale grey. 
The Tikumu gecko looks relatively similar to the related Kahurangi gecko (Woodworthia "Mt Arthur"). However, specific morphological differences have not yet been identified. 
Distribution
The Tikumu gecko is only known from rocky alpine habitat in Nelson Lakes National Park. 
Ecology and habitat
Very little is known about this species ecology. However, it is presumably a nocturnal (or cathemeral) species, that is saxicolous and terrestrial. 
Social structure
Unknown.
Breeding biology
Largely unknown, but likely to be similar to other sub-alpine / alpine Woodworthia populations e.g. up to two young biennially.
Diet
Like other members of the Woodworthia genus, Tikumu geckos are presumably omnivorous. It is likely that they opportunistically feed on invertebrates, as well as the nectar and fruit / berries of native plants when in season.
Disease
Unknown.
Conservation strategy
This species is Data Deficient. Conservation work will aim to understand more about the distribution and ecology of these geckos.
Interesting notes
The Tikumu gecko was discovered in 2021 by revered herpetologist, Marieke Lettink, while conducting alpine lizard surveys in Nelson Lakes National Park. Subsequent genetic analyses indicated that it was markedly divergent from its closest relative, the Kahurangi gecko. This combined with its apparent morphological features and geographic separation, suggest that it is a new species.