Woodworthia "Mt Arthur"
Woodworthia "Mt Arthur"
Kahurangi gecko
Woodworthia "Mt Arthur"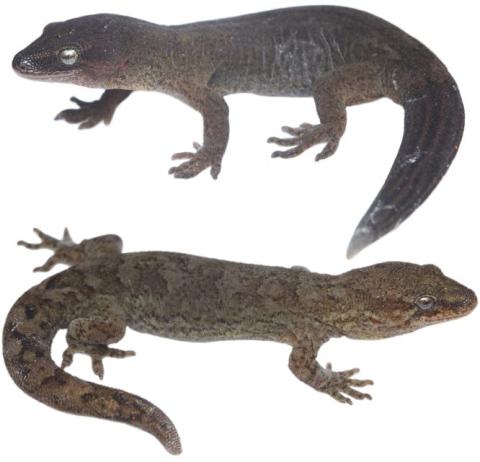 Herpetofaunal category
NZ Geckos
Conservation Status
At Risk - Declining
Previous scientific names
Common names
Kahurangi gecko,
Mt Arthur gecko.
Length: SVL up to 70mm, with the tail being equal to or longer than the body length
Weight: unknown
Description
A small and unique species of Woodworthia specifically adapted to the alpine environments of the Tasman district.
It is characterised by its green-grey or olive-brown colouration, which may be broken up by dull grey chevrons running the length of the back. A dark stripe runs from the nostril through the eye and onto the neck. The lateral surfaces are often similar in colouration to the dorsum with fine black speckling or traces of the grey chevrons, this colouration fades into a uniform grey on the undersides.
Western populations have a split rostral scale, however, populations on and around Mount Arthur, and Mount Owen do not. The Kahurangi gecko may be hard to differentiate from the Raukawa gecko (W. maculata) that occurs in the surrounding lowland regions, but in general, the Raukawa gecko has more contrasting patterning, a longer tail, and longer claw-bearing distal phalanges (last segment of the toes). There appears to be a large distribution gap between this species and the Southern Alps gecko (W. "Southern Alps"), and thus they are unlikely to be confused.
Life expectancy
Largely unknown, however, it is likely as with most of our alpine species that they may have a longer lifespan compared to related taxa in more coastal / lowland environments.
Distribution
The Kahurangi gecko is restricted to the alpine zones around Kahurangi National Park, Mount Arthur, and Mount Owen.
Ecology and habitat
A nocturnal species, that is saxicolous and terrestrial, spending the majority of its time moving through/between the complex rock features in the alpine zone. It is primarily associated with alpine habitats (between 1200 and 1500m asl), especially argillite screes, and marble karst systems. 
Social structure
As with most other Woodworthia, the Kahurangi gecko can reach extremely high densities in areas with little disturbance or a lack of mammalian pests. They have been observed in large aggregations within refugia (under rock slabs, screes, rock crevices) during the day.
Breeding biology
Largely unknown, but likely to be similar to other sub-alpine / alpine Woodworthia populations e.g. up to two young biennially.
Diet
As with other members of the Woodworthia genus, Kahurangi geckos are likely to be omnivorous. Living in alpine environments it is likely that they would be opportunistic feeding on invertebrates, as well as the nectar and fruit / berries of native plants when in season.
Disease
Largely unknown.
Kahurangi geckos have been recorded with ectoparasitic mites in the wild.
Conservation strategy
This species was originally classified as "Naturally Uncommon" by DOC, being restricted to the sub-alpine and alpine zones, and thus it was suggested that it would not face too much disturbance in terms of anthropogenic habitat modification. However, it was reassessed to "Declining" due to the fact that as the alpine zones warm it is likely that mammalian pests will be able to further infiltrate these strongholds (although they likely already have to a certain degree) and have adverse impacts on this species.
Interesting notes
Kahurangi geckos are members of the 'common gecko' complex, a group of closely related species which are regionally distributed throughout New Zealand. Historically, most of these were considered a single highly-variable species - Hoplodactylus maculatus (the so called 'common gecko'). The 'common gecko' has now been separated into over ten different species.
The Kahurangi gecko sits within the Northern clade of the Woodworthia complex, with the Raukawa gecko being its closest relative within the group.
References
Hitchmough, R.A., Barr, B., Lettink, M., Monks, J., Reardon, J., Tocher, M., van Winkel, D., Rolfe, J. (2016). Conservation status of New Zealand reptiles, 2015; New Zealand threat classification series 17. Wellington: New Zealand Department of Conservation.
Hitchmough, R., Barr, B., Knox, C., Lettink, M., Monks, J. M., Patterson, G. B., Reardon, J. T., van Winkel, D., Rolfe, J., & Michel, P. (2021). Conservation status of New Zealand reptiles, 2021. New Zealand threat classification series 35. Wellington: New Zealand Department of Conversation.
Jewell, T. (2011). A photographic guide to reptiles and amphibians of New Zealand. Auckland: New Holland Publishing.
Nielsen, S. V., Bauer, A. M., Jackman, T. R., Hitchmough, R. A., & Daugherty, C. H. (2011). New Zealand geckos (Diplodactylidae): cryptic diversity in a post-Gondwanan lineage with trans-Tasman affinities. Molecular Phylogenetics and Evolution, 59(1), 1-22.
O'Donnell, C. F., Weston, K. A., & Monks, J. M. (2017). Impacts of introduced mammalian predators on New Zealand's alpine fauna. New Zealand Journal of Ecology, 41(1), 1-22.
van Winkel, D., Baling, M. & Hitchmough, R. (2018). Reptiles and Amphibians of New Zealand: A field guide. Auckland: Auckland University Press, 376 pp.
Whitaker, A. H., Shaw, T., & Hitchmough, R. (1999). Black-eyed geckos (Hoplodactylus kahutarae) on Mt Arthur, Kahurangi National Park. Wellington: Department of Conservation.