Mokopirirakau "Ōkārito"
Mokopirirakau "Ōkārito"
Broad-cheeked gecko
Mokopirirakau "Ōkārito"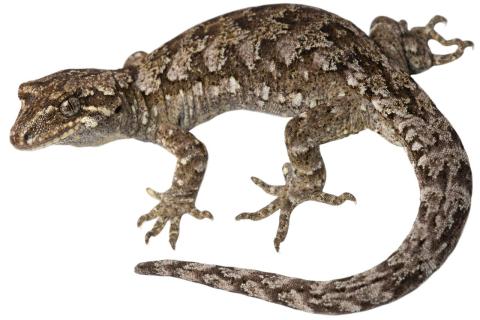 Herpetofaunal category
NZ Geckos
Conservation Status
Threatened - Nationally Vulnerable
Common names
Broad-cheeked gecko,
Ōkārito gecko.
Length: SVL up to 90mm, with the tail being equal to the body length
Weight: unknown
Description
A cryptic species from the forested regions of southern Westland. The broad-cheeked gecko is similar in appearance to other southern Mokopirirakau exhibiting the W or H-shaped marking running along the upper surfaces, as well as the V-shaped marking between the eyes. The colouration on the upper surfaces is variable ranging from shades of brown through to grey, often with yellow, red or pinkish splotches. The ventral surfaces are much lighter in colouration often being a greyish colour but can be flecked with yellow and cream, with dark speckling, the undersides of the extremities are often lighter in colouration than the body. The mouth lining and tongue are bright orange in colouration. As per the name the cheeks may appear quite broad when viewed from above.
Life expectancy
Unknown, but likely to be similar to other southern Mokopirirakau species.
Distribution
Restricted to Westland, but the distribution limits of this species are poorly understood. Known to occur between Tai Poutini National Park and the Paringa River. 
Ecology and habitat
A nocturnal, and arboreal species. It is known to inhabit the wet coastal forests in the Ōkārito region but may occur well into the subalpine region.
Social structure
Unknown.
Breeding biology
As with other Mokopirirakau, females are likely to produce 1-2 young, either annually or biennially.
Diet
Most likely to be an omnivore as with the other Mokopirirakau, taking both invertebrate prey, as well as the fruits and nectar of a variety of plant species.
Disease
Is a host for gecko mites.
Conservation strategy
The broad-cheeked gecko is listed as "Nationally vulnerable".
Interesting notes
One of the original broad-cheeked geckos was discovered when it was found in the backpack of a hunter, who returned from a high-elevation area near Paringa. This gecko was briefly kept in captivity, then sadly passed away and was donated to a museum.
References
Hitchmough, R., Barr, B., Knox, C., Lettink, M., Monks, J. M., Patterson, G. B., Reardon, J. T., van Winkel, D., Rolfe, J., & Michel, P. (2021). Conservation status of New Zealand reptiles, 2021. New Zealand threat classification series 35. Wellington: New Zealand Department of Conversation.
Jewell, T. (2011). A photographic guide to reptiles and amphibians of New Zealand. Auckland: New Holland Publishing.
Nielsen, S. V., Bauer, A. M., Jackman, T. R., Hitchmough, R. A., & Daugherty, C. H. (2011). New Zealand geckos (Diplodactylidae): cryptic diversity in a post-Gondwanan lineage with trans-Tasman affinities. Molecular Phylogenetics and Evolution, 59(1), 1-22.
van Winkel, D., Baling, M. & Hitchmough, R. (2018). Reptiles and Amphibians of New Zealand: A field guide. Auckland: Auckland University Press, 376 pp.