Mokopirirakau "Cascades"
Mokopirirakau "Cascades"
Cascade gecko
Mokopirirakau "Cascades"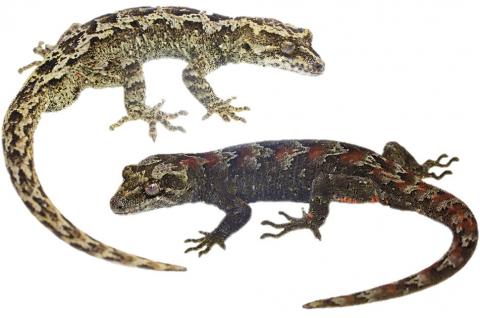 Herpetofaunal category
NZ Geckos
Conservation Status
At Risk - Declining
Length: SVL up to 95mm, with the tail being equal to or shorter than the body length
Weight: Unknown
Description
A beautifully patterned forest gecko species that is often found in extremely rugged alpine environments. Cascade geckos typically have a grey, brown, or olive dorsal coloration with distinct contrasting chevrons or blotches. These are often broken up with bright orange-brown or mustard-cream blotches. The ventral surface is typically lightly speckled or with vivid broken stripes. The interior of the mouth and tongue is bright orange. Cascade geckos typically have brown or olive-grey eye colored eyes.  
Life expectancy
Unknown. Probably long-lived.
Distribution
Found in Northern Fiordland and Southern Westland. 
Ecology and habitat
Cascade geckos are a cathemeral, terrestrial, and arboreal species that are associated with rock. They inhabit rock bluffs, sheer rock walls, deep rocky crevices, boulderfield, and open rocky shrublands. Like some other cryptic 'alpine' Mokopirirakau, such as the Tākitimu gecko (Mokopirirakau cryptozoicus), this species also does inhabit forest, however, is apparently very uncommon in this habitat type now (van Winkel et al. 2018). This species has be found up to 1700 metres above sea level
Social structure
Unknown.
Breeding biology
Unknown. Possibly a biennial reproducer. 
Diet
Presumably insectivorous and likely feeds on alpine sugar sources such as nectar or fruits. 
Disease
Unknown. 
Conservation strategy
This species is being monitored using a variety of methods as part of a Department of Conservation alpine reptiles initiative. 
Interesting notes
Astonishingly, one individual was found by climbers in Fiordland approximately 150 metres up a near-vertical rock wall. 
References
Bell, T. P., Patterson, G., & Jewell, T. (2007). Alpine lizard research in Fiordland National Park. DOC Research and Development Series, 304.
Hitchmough, R., Barr, B., Knox, C., Lettink, M., Monks, J. M., Patterson, G. B., Reardon, J. T., van Winkel, D., Rolfe, J., & Michel, P. (2021). Conservation status of New Zealand reptiles, 2021. New Zealand threat classification series 35. Wellington: New Zealand Department of Conversation.
Jewell, T. (2008). A photographic guide to reptiles and amphibians of New Zealand. Auckland: New Holland.
Johnston, L. (2014). Trials and Evaluations of Monitoring Tools for New Zealand's Alpine Skinks: The Barrier skink (Oligosoma judgei) and the Sinbad skink (O. pikitanga). A report submitted in partial fulfilment of the Post-graduate Diploma in Wildlife Management, University of Otago. 
Nielsen, S. V., Bauer, A. M., Jackman, T. R., Hitchmough, R. A., & Daugherty, C. H. (2011). New Zealand geckos (Diplodactylidae): cryptic diversity in a post-Gondwanan lineage with trans-Tasman affinities. Molecular Phylogenetics and Evolution, 59(1), 1-22.
O'Donnell, C. F., Weston, K. A., & Monks, J. M. (2017). Impacts of introduced mammalian predators on New Zealand's alpine fauna. New Zealand Journal of Ecology, 41(1), 1-22.
van Winkel, D., Baling, M., Hitchmough, R. 2018. Reptiles and amphibians of New Zealand – a field guide. Auckland university press, Auckland New Zealand.