Mokopirirakau "Open Bay Islands"
Mokopirirakau "Open Bay Islands"
Open Bay Islands gecko
Mokopirirakau "Open Bay Islands"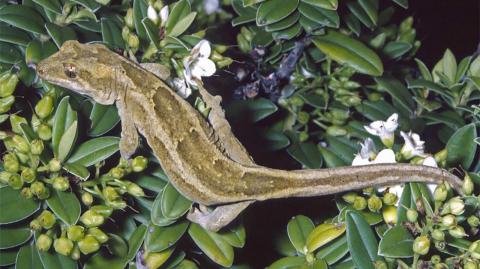 Image attribution
Open Bay Islands gecko (Open Bay Islands). © A H Whitaker
Herpetofaunal category
NZ Geckos
Conservation Status
Threatened - Nationally Endangered
Common names
Open Bay Islands gecko
Moko taumaka
Length: SVL up to 77mm, with the tail being equal to or shorter than the body length
Weight: up to 10.7 grams
Description
A small species of Mokopirirakau restricted to the Open Bay Islands off the western coast of Haast in southern Westland. This species is relatively drab compared to other Mokopirirakau being a uniform light brown or olive with beige dorsolateral stripes and transverse bands which often result in distinct U-shape patterns running down the back of the animal. A distinct arrow-shaped marking is present between the eyes pointing towards and often joining with the dorsal pattern. The lateral (the sides), and ventral (belly) surfaces are a similar light brown to olive as the dorsal surfaces but fade to lighter tones on the undersides. The mouth lining and tongue of this species are bright orange in colouration. 
Life expectancy
Unknown.
Distribution
Restricted to Taumaka island in the Open Bay Island group. Due to the shallowness of the water between these islands and the South Island, it is possible that this species may have occurred or still occurs albeit undiscovered on the adjacent mainland.
Ecology and habitat
A nocturnal species with arboreal tendencies. This species is likely to utilise a multitude of habitats on Taumaka, including coastal forest and shrubland. As with other lowland Mokopirirakau species, it is likely that this species utilises loose bark, tree cavities, and rock cracks as refugia during the day. The species also been found in Freycinetia banksii.
Social structure
Unknown.
Breeding biology
Females have been recorded as being gravid in March, giving birth to up two young either annually or biennially. 
Diet
As with other gecko species, the diet is likely to consist of both invertebrate prey, fruit and nectar depending on the time of the year. 
Disease
Unknown.
Conservation strategy
The Open Bay Islands gecko is regarded as 'Threatened - Nationally Endangered' due to both its restricted distribution, and small population. This species is exposed to predation from Weka (introduced in the early 1900s) on Taumaka island, and along with the co-occurring Taumaka skink (Oligosoma taumakae) would benefit from the removal or control of Weka. 
References
Hitchmough, R.A., Barr, B., Lettink, M., Monks, J., Reardon, J., Tocher, M., van Winkel, D., Rolfe, J. (2016). Conservation status of New Zealand reptiles, 2015; New Zealand threat classification series 17. Wellington: New Zealand Department of Conservation.
Jewell, T. (2011). A photographic guide to reptiles and amphibians of New Zealand. Auckland: New Holland Publishing.
Lettink, M., Hopkins, G., & Mayhew, K. (2010). Conservation status, threats and management options for the Open Bay Island skink (Oligosoma taumakae). New Zealand Journal of Zoology, 37(3), 225-234.
van Winkel, D., Baling, M. & Hitchmough, R. (2018). Reptiles and Amphibians of New Zealand: A field guide. Auckland: Auckland University Press, 376 pp.