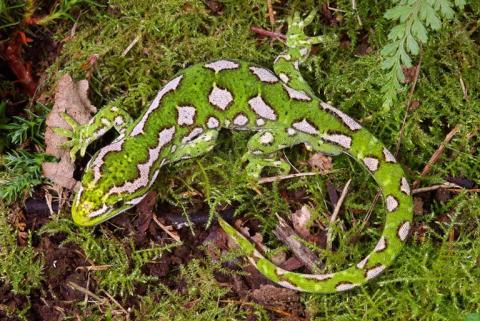 Description
Two major geographic forms are recognised: Canterbury and Otago, with populations existing between the two regions not well known. Both grow to 70-80mm SVL (snout vent length). The name 'jewelled gecko' arose from the typical pattern of diamonds on the back. Both forms exhibit very long tails with the tail being longer than the SVL.
|   | Colouration | Mouth | Eyes |
| --- | --- | --- | --- |
| Canterbury form | Dorsal (upper) surface is typically a bright green or olive, while the ventral (lower) surface being pale grey to green/yellow, usually with longitudinal streaks/stripes. Most males are grey/brown all over with females being patterned (though this is not a definitive indicator of sex). Diamond shaped patches or continuous stripes cover the back and tail, this 'jewelled' pattern can be: white, yellow, green, grey or pinkish in colour. | Lining of mouth is pink or mauve. Tongue pink/orange with some individuals having a dark grey base to the tongue. | Olive green to brown, pupils often highlighted with a pale border. |
| Otago form | Dorsal surfaces a bright green with rows of diamond shaped patches or narrow stripes along the length of the body. Stripes may be pale green, white or yellow. Males more commonly have thin stripes while females are more likely to have diamonds, however, this is not a definitive indication of sex. | Lining of mouth deep blue with a blackish tongue. | Olive or brown. |
Click here for information on how jewelled gecko differ in appearance from other species in the Naultinus group.
Life expectancy
Captive animals can reach ages of 20-25 years.
Distribution
Eastern South Island.
Ecology and habitat
Jewelled gecko are an arboreal, diurnal species which inhabit forest and scrub including: manuka, kanuka, beech, Coprosma sp, and matagouri.
Social structure
Largely unknown, as with other Naultinus species males exhibit aggressive behaviour towards other males, especially when in the presence of females.
Breeding biology
Females in the Canterbury region typically give birth in spring, whereas young are typically born in late autumn in the Otago region. Captive animals in the Wellington region have been recorded as giving birth in February/March (D. Keall, personal communication, September 22, 2016).  
Diet
Invertebrates and nectar.
Disease
The ectoparasite Neotrombicula naultini has been recorded in jewelled gecko.
Conservation status
DOC classify the species as 'at risk'. Jewelled gecko in the Otago Peninsula have been severely affected by introduced predators, habitat clearance as well as poaching. Populations of the Otago form of jewelled gecko are declining with their survival dependent on conservation management.
References
Gill, B.J., & Whitaker, A.H. (2007). New Zealand frogs and reptiles. Auckland: David Bateman Limited.
Hitchmough, R.A., Barr, B., Lettink, M., Monks, J., Reardon, J., Tocher, M., van Winkel, D., Rolfe, J. (2016). Conservation status of New Zealand reptiles, 2015; New Zealand threat classification series 17. Wellington: New Zealand Department of Conservation.
Jewell, T. (2011). A photographic guide to reptiles and amphibians of New Zealand. Auckland: New Holland Publishers Ltd.
Robb, J. (1980). New Zealand amphibians and reptiles in colour. Auckland: Collins.
Wilson, J.L., & Cree, A. (2003). Extended gestation with late autumn births in a cool-climate viviparous gecko from southern New Zealand (Reptilia: Naultinus gemmeus). Australasian Ecology, 28(3), 339-348.