Oligosoma Aff. Infrapunctatum "Hokitika"
Oligosoma aff. infrapunctatum "Hokitika"
Hokitika skink
Oligosoma aff. infrapunctatum "Hokitika"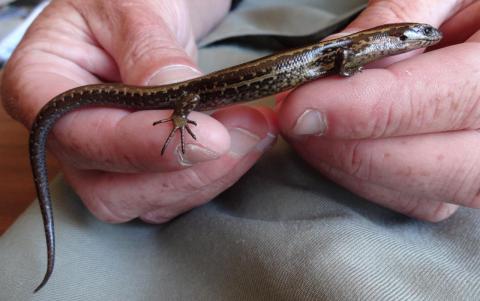 Image attribution
Hokitika skink right lateral surface (Hokitika, West Coast). © Les Moran
Herpetofaunal category
NZ Skinks
Conservation Status
Data Deficient
Previous scientific names
Oligosoma infrapunctatum,
Leiolopisma infrapunctatum.
Length: SVL up to 85mm, with the tail being longer than the body length
Weight: unknown
Description
A mysterious species known only from three specimens. Two museum specimens exist, and a live subadult was detected during DOC monitoring of Kapitea skinks (Oligosoma salmo) on the West Coast region of the South Island.
Head has a short, blunt snout, and distinctive denticulate markings on edges of the mouth. Dorsal surface is grey-brown with heavy lighter and darker speckling. Flanks have a dark-brown lateral stripe which begins on the snout and continues along the length of the body and tail. Lateral stripe is notched at upper margin and bordered above by a fawn-coloured dorsolateral stripe, and below by a cream-coloured mid-lateral stripe with regular light spots on upper and lower margins. Flanks below mid-lateral stripe are heavily speckled with cream coloured spots which fade into a cream coloured ventral surface with fine black flecks. Flecks on ventral surface are arranged into streaks which become more prominent on the underside of the tail. 
Hokitika skinks may be confused with other species from the speckled skink complex (e.g. Kapitia skink - Oligosoma salmo), but can be distinguised by the presence of strong denticulate markings on the edges of the mouth, speckles on the belly arranged into streaks, and an additional scale separating the prefrontal scales on the snout.
Life expectancy
Unknown.
Distribution
Known only from discrete locations near Hokitika, in the West Coast region of the South Island.
Ecology and habitat
Virtually nothing is known about the ecology of Hokitika skinks. They are likely to be diurnal and heliothermic in common with other members of the speckled skink group.
Nothing is known of their habitat preferences. Has been found in habitat which includes rank grass, pasture and river terrace.
Social structure
Unknown.
Breeding biology
Unknown.
Diet
Unknown, but likely to be omnivorous in common with other members of the speckled skink species complex.
Disease
Unknown.
Conservation strategy
The Hokitika skink is currently classified by DOC as 'Data Deficient.' Further survey effort is required, and until more specimens / populations have been discovered, little conservation work can be done undertaken for this species.
Interesting notes
Hokitika skinks are members of the speckled skink cryptic species complex - a group of related taxa with similar morphology that were previously regarded as one highly variable species (Oligosoma infrapunctatum).
References
Hitchmough, R.A., Barr, B., Lettink, M., Monks, J., Reardon, J., Tocher, M., van Winkel, D., Rolfe, J. (2016). Conservation status of New Zealand reptiles, 2015; New Zealand threat classification series 17. Wellington: New Zealand Department of Conservation.
Jewell, T. (2011). A photographic guide to reptiles and amphibians of New Zealand. Auckland: New Holland Publishing.
van Winkel, D., Baling, M. & Hitchmough, R. (2018). Reptiles and Amphibians of New Zealand: A field guide. Auckland: Auckland University Press, 376 pp.