Oligosoma homalonotum
Oligosoma homalonotum
Chevron skink | Niho taniwha
Oligosoma homalonotum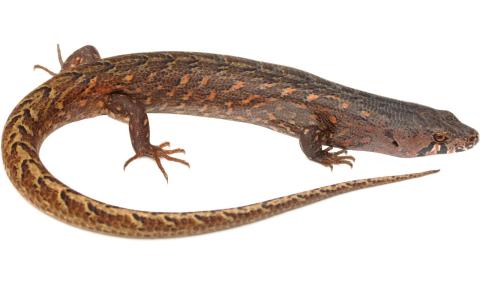 Herpetofaunal category
NZ Skinks
Conservation Status
Threatened - Nationally Vulnerable
Common names
Chevron skink,
Niho taniwha.
Length: SVL up to 146mm, with the tail being longer than the body length(1.5x)
Weight: up to 40 grams
Description
A large, beautifully-patterned and iconic skink from the outer Hauraki Gulf Islands, Chevron skinks are New Zealand's longest lizard reaching up to 35cm in total length (mainly by virtue of their tail which can be almost 1.5 x their SVL / body length).
Dorsal (upper) surface and flanks grey to light reddish brown with a distinct chevron pattern present along tail and back (apexes point towards head). Flanks have small pale blotches. Ventral (lower) surface pale with scattered spots, spots are most concentrated on throat. Distinctive pattern of black and white stripes along the lips, including a pale black edged 'teardrop' shape below they eye (this pattern is distinct and can be used to distinguish individuals).
Life expectancy
Little is known about the longevity of chevron skinks. However, a wild born skink which was caught as an adult, has been held in captivity since 1997 (Dave Laux, pers. comm, 07 June 2022). Thus, it is estimated that longevity of the chevron skink is at least 30 years, but probably longer. Another wild-born male, caught as an adult, was held in captivity for approximately 15 years between 1985-2000 (K. Neilson, personal communication).
Distribution
Great Barrier Island and Little Barrier Island in the Hauraki Gulf. They are believed to be pseudo-endemic to these two sites as historical accounts and a single preserved specimen at Auckland Museum indicate they previously occurred on the mainland north of Auckland.
Ecology and habitat
Chevron skinks are a diurnal but highly cryptic species, and will occasionally be seen basking near a retreat. They are prone to evaporative water loss, so prefer thermally stable refuge sites and are often associated with stream margins in native forest. The species have prehensile tails and are excellent climbers. They are known to climb trees when streams and creeks are flooded, and often hide in tree ferns where their chevron pattern provides excellent camouflage amongst the dead fronds. Chevron skinks are also able to hold their breath and will retreat underwater if threatened by predators.
Social structure
Largely unknown but thought to be solitary. They will grunt or squeak if disturbed. 
Breeding biology
Female chevron skinks give birth to litters of up to 8 live young in mid to late summer. It is not known if chevron skink breed annually or biennially.
Diet
Invertebrates including spiders and snails.
Disease
Largely unknown.
Conservation
Listed as 'nationally vulnerable' under DOC classification list. A research project was carried out between 1997 and 2002 investigating habitat use and detection methods. DOC have a recovery programme in place for the Oligosoma skink group.
Interesting notes
Also known as 'Niho Taniwha', which translates to 'teeth of the taniwha' in Maori (a reference to the distinctive chevron markings on the back).
The species were first described in 1906, then due to mislabelling of specimens they were 'lost' for 70 years before being rediscovered in the late 1970's on Great Barrier Island.
They were subsequently discovered on Little Barrier Island in 1991.
References
Baling, M. (2003). The microhabitat use, behaviour, and population genetic structure of the chevron skink (Oligosoma homalonoum). Unpublished masters dissertation, Auckland University, Auckland, New Zealand.
Barr, Ben (2005). Chevron Skinks the shy locals of Great Barrier Island. Great Barrier Island Charitable Trust.
Barr, B.P. (2009). Spatial ecology, habitat use, and the impacts of rats on chevron skinks (Oligosoma homalonotum) on Great Barrier Island. Unpublished masters thesis, Massey University, Auckland, New Zealand.
Gill, B.J., & Whitaker, A.H. (2007). New Zealand frogs and reptiles. Auckland: David Bateman Ltd.
Hitchmough, R.A., Barr, B., Lettink, M., Monks, J., Reardon, J., Tocher, M., van Winkel, D., Rolfe, J. (2016). Conservation status of New Zealand reptiles, 2015; New Zealand threat classification series 17. Wellington: New Zealand Department of Conservation.
Jewell, T. (2011). A photographic guide to reptiles and amphibians of New Zealand. Auckland: New Holland Publishers.
Neilson, Keri; Curran, James M.; Towns, David R.; Jamieson, Halema (2006). Habitat use by chevron skinks (Oligosoma homalonotum) (Sauria: Scincidae) on Great Barrier Island, New Zealand. New Zealand Journal of Ecology, 30, 3.
Towns, David R., Neilson, Keri A., and Whitaker, A.H. (Tony). (2002). North Island Oligosoma spp. skink recovery plan 2002–2012: Threatened species recovery plan 48. Wellington: Department of Conservation Te Papa Atawhai.
van Winkel, D., Baling, M. & Hitchmough, R. (2018). Reptiles and Amphibians of New Zealand: A field guide. Auckland: Auckland University Press, 376 pp.