Oligosoma notosaurus
Oligosoma notosaurus
Southern skink
Oligosoma notosaurus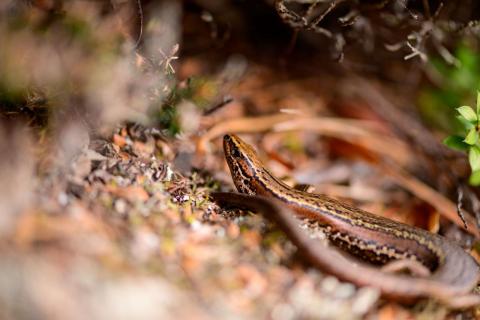 Image attribution
Southern skink (Whenua Hou/Codfish Island, Stewart Island).
© Jake Osborne
Herpetofaunal category
NZ Skinks
Conservation Status
At Risk - Declining
Length: SVL up to 90mm, with the tail being longer than the body
Weight: unknown
Description
The Southern skink is endemic to Stewart Island/Rakiura, being one of the four skink species present on the island. This beautiful species is fairly widespread inhabiting almost all habitat types from the coastal dunes through to the alpine zone and is, therefore, the most likely species observed in the area.
Colouration is typically a dark walnut to a light chestnut brown on the upper surfaces, with a broad dark chocolate band bordered by fine cream stripes running along the lateral surfaces. A broken or complete mid-dorsal stripe may be present, along with cream to light golden flecking. Lower surfaces are often grey-brown to yellow, and can be uniform or have black flecking, particularly around the throat.
The southern skink shares its range with two similar species, these being the small-eared skink (Oligosoma stenotis) and the southern grass skink (Oligosoma aff. polychroma Clade 5). Southern skink can be differentiated from the co-occurring small-eared skink (Oligosoma stenotis) by their grey-speckled vs. yellow throat, and the absence of the characteristic broad dorsal stripe and keeled tail that are present in the latter. It is more difficult to differentiate from the southern grass skink (Oligosoma aff. polychroma Clade 5), but in general, the southern skink is more robust and has much narrower cream bands bordering the dark lateral band.
This species is similar in appearance to the cryptic skink (Oligosoma inconspicuum) complex that occurs on the neighbouring South Island but is geographically isolated by the Foveaux Strait. Can be differentiated by comparing the slight furrows on the dorsal head scales which are usually more deeply etched in southern skink than in any of the mainland species. 
Life expectancy
Unknown.
Distribution
Confined to Stewart Island and some of its outlying islands (e.g. Codfish Island/Whenuahou, and Kundy Island). Present on most of the islands on the western side of Stewart Island, but is absent from many of the eastern islands. 
Ecology and Habitat
A diurnal species, that occurs in a broad range of habitats from coastal sand dunes, to alpine herb fields.
Social Structure
Solitary.
Breeding Biology
Viviparous. Up to 4 live young born in late February-March.
Diet
As with most of our native skinks, this species is omnivorous feeding on both invertebrates (spiders, insects and amphipods), and small fruits.
Disease
Largely unknown.
Conservation status
Widely distributed through most of Stewart Island, however, declining on the main island due to predation by mammalian pests (rats, mice, possums, and feral cats). The introduction of Weka to some of the surrounding islets may be causing declines in some of those populations. 
References
Chapple, D. G., Ritchie, P. A., & Daugherty, C. H. (2009). Origin, diversification, and systematics of the New Zealand skink fauna (Reptilia: Scincidae). Molecular phylogenetics and evolution, 52(2), 470-487.
Daugherty, C. H., Patterson, G. B., Thorn, C. J., & French, D. C. (1990). Differentiation of the members of the New Zealand Leiolopisma nigriplantare species complex (Lacertilia: Scincidae). Herpetological monographs, 61-76.
Hitchmough, R., Barr, B., Knox, C., Lettink, M., Monks, J. M., Patterson, G. B., Reardon, J. T., van Winkel, D., Rolfe, J., & Michel, P. (2021). Conservation status of New Zealand reptiles, 2021. New Zealand threat classification series 35. Wellington: New Zealand Department of Conversation.
O'Donnell, C. F., Weston, K. A., & Monks, J. M. (2017). Impacts of introduced mammalian predators on New Zealand's alpine fauna. New Zealand Journal of Ecology, 41(1), 1-22.
Patterson, G. B., & Daugherty, C. H. (1990). Four new species and one new subspecies of skinks, genus Leiolopisma (Reptilia: Lacertilia: Scincidae) from New Zealand. Journal of the Royal Society of New Zealand, 20(1), 65-84.
Patterson, G. B., & Daugherty, C. H. (1995). Reinstatement of the genus Oligosoma (Reptilia: Lacertilia: Scincidae). Journal of the Royal Society of New Zealand, 25(3), 327-331.
van Winkel, D., Baling, M., & Hitchmough, R. (2018). Reptiles and Amphibians of New Zealand: A Field Guide. Auckland University Press, pp376.