Common names
Ngahere gecko
Southern North Island forest gecko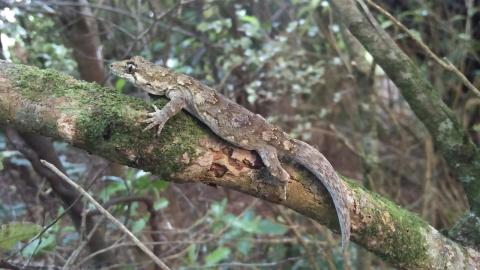 Image attribution
Joel Knight
Description
Dorsal surface light grey to dark brown with transverse row of V or W shaped blotches on either side of the spine, often intermingled with bright yellow patches. White stripe between ear and eye and V shaped mark behind eyes Ventral surface lighter with speckles/mottling.
Lining of mouth and tongue bright orange. Eyes are grey, brown or olive. Toes have 9-10 lamallae.
Forest gecko reach SVL (snout-vent-lengths) of up to 85mm, tail longer than SVL.
Similar to forest gecko but typically more robust in build, dorsal markings often less prominent and more commonly divided across the spine.
Click here for more information on how Ngahere gecko differ from other species within the Mokopirirakau complex.
Life expectancy
Estimates for captive animals range from 20-30 years (D. Keall, personal communication, September 21, 2016).
Distribution
Northern North Island (excluding Aupouri Peninsula). The species also occurs through the North-western South Island from Nelson Marlborough to Okarito. Click here for the Mokopirirakau distribution map.
Ecology and habitat
Inhabits forest and shrubland, usually amongst trunks and larger branches of trees. A largely nocturnal species, will sunbask near retreats. Occasionally found in low shrubs, ferns, or creviced clay banks.
Social structure
All Mokopirirakau species are generally solitary. Vocalisation among Mokopirirakau can be described as chirrups or shrill squeals when stressed.
Breeding biology
Ngahere gecko are viviparous, giving birth to one or two young over summer.
Diet
Insects, moths, flies, fruit and nectar.
Disease
Mites have been recorded in Mokopirirakau gecko.
Conservation strategy
Ngahere gecko are classified by DOC as 'nationally endangered'.
References
Jewell, T. (2011). A photographic guide to reptiles and amphibians of New Zealand. Auckland: New Holland Publishers.
Hitchmough, R.A. (1997). A systematic review of the New Zealand Gekkonidae. Unpublished doctoral dissertation. Victoria University: Wellington, New Zealand.
Nielsen, S.V., Bauer, A.M., Jackman, T.R., Hitchmough, R.A., & Daugherty, C.H. (2011). New Zealand geckos (Diplodactylidae): cryptic diversity in a post-Gondwanan lineage with trans-Tasman affinities.Molecular Phylogenetics and Evolution, 59, 1–2.
Robb, J. (1980). New Zealand amphibians and reptiles in colour. Auckland: William Collins Publishers Ltd.
Robb, J. (1986). New Zealand amphibians and reptiles. Auckland: Collins.
Whitaker, T.A.H., & Gaze, P.D. (1999). Conservation of lizards in Nelson/Marlborough Conservancy, 44.