Oligosoma kahurangi
Oligosoma kahurangi
Kahurangi skink
Oligosoma kahurangi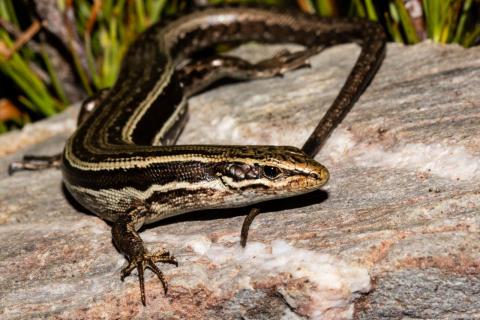 Herpetofaunal category
NZ Skinks
Conservation Status
Threatened - Nationally Critical
Previous scientific names
Common names
Kahurangi skink,
Lonely Lakes skink
Length: SVL up to 76mm, with the tail being much longer than the body length
Weight: unknown
Description
A recently discovered species from the Tasman region of the South Island, with a distinctively long tail. 
The upper surfaces of this species are mid to dark brown, with a thin dark mid-dorsal stripe running from the base of the neck onto the tail (at which point it widens and becomes wavy). Pale dorsolateral stripes are present extending from above the eye through to the tip of the tail, bordered by a thin dark brown stripe above. A broad brown lateral stripe (with dark edges) dominates the side of the animal, these are bordered by the pale dorsolateral stripe above and a second one underneath. The lower pale stripe is bounded by a dark band underneath, which breaks up into the cream colouration that is present on the stomach of the animal.
Kahurangi skinks are geographically isolated from the closely related White-bellied skink (Oligosoma hoparatea), Roamatimati skink (Oligosoma aff. longipes "southern") and Northern long-toed skink (Oligosoma longipes), but can be differentiated by their striped patterning and more brown (vs. greyish) colouration. 
Life expectancy
Unknown.
Distribution
Known only from scree / boulder-fields at Lonely Lake in the Douglas Range, where the species was first discovered. Further surveys are required and the species may occur at other locations nearby.
Ecology and habitat
Kahurangi skinks are diurnal, strongly heliothermic, and saxicolous. They are a terrestrial species and are known to inhabit boulderfield, scree, and mixed slate-tussock habitats, but may also utilise other rocky habitat types in the alpine zone. 
Social structure
Unknown.
Breeding biology
Unknown.
Diet
Not well understood, but likely to be omnivorous, feeding on all manner of small invertebrates as well as the berries / fruit from native plants.
Disease
Unknown.
Conservation strategy
Kahurangi skinks have only recently been discovered and it is too soon to say what conservation work the species may require. It is suggested that this species be regarded as 'Threatened - Nationally Critical', due to its restricted distribution. Further surveys are planned to better understand the distribution, population numbers and ecology of this species.
Interesting notes
Kahurangi skinks are close relatives of the northern long-toed skink (Oligosoma longipes), Roamatimati skink (Oligosoma aff. longipes "southern") and the white-bellied skink (Oligosoma hoparatea), but are geographically isolated from these taxa.
References
Hitchmough, R., Barr, B., Knox, C., Lettink, M., Monks, J. M., Patterson, G. B., Reardon, J. T., van Winkel, D., Rolfe, J., & Michel, P. (2021). Conservation status of New Zealand reptiles, 2021. New Zealand threat classification series 35. Wellington: New Zealand Department of Conversation.
Patterson, G., & Hitchmough, R. (2021). A new alpine skink species (Scincidae: Eugongylinae: Oligosoma) from Kahurangi National Park, New Zealand. Zootaxa, 4920(4), 495-508.
van Winkel, D., Baling, M. & Hitchmough, R. (2018). Reptiles and Amphibians of New Zealand: A field guide. Auckland: Auckland University Press, 376 pp.