Oligosoma levidensum
Oligosoma levidensum
Slight skink
Oligosoma levidensum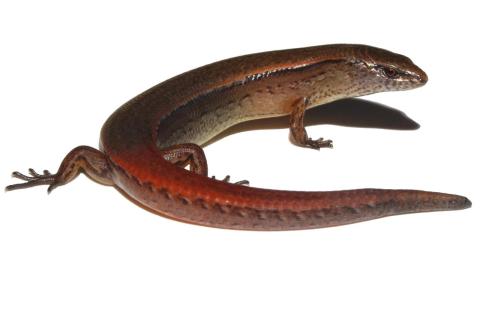 Herpetofaunal category
NZ Skinks
Conservation Status
Threatened - Nationally Endangered
Previous scientific names
Length: SVL up to 51mm, with the tail being shorter than the body length
Weight: unknown
Description
This iconic little species is New Zealand's smallest skink. It bears a striking resemblance to the closely related copper skink (Oligosoma aeneum), but is significantly smaller, and restricted to the northern regions of the Aupouri Peninsula. As with the copper skink, this species is brown with occasional white flecking, it has a copper dorsolateral stripe bordered by black on the lower edge running from the neck to the base of the tail, as well as the black and white denticulate patterns on the upper and lower jaw. Lower surfaces range from white through to yellow, with orange patches towards the vent and tail, there can be black flecking on the throat.
Identification
In general, the slight skink is considered to be geographically isolated from the copper skink (Oligosoma aeneum), however, in regions where it may overlap (e.g. the southern Aupouri peninsula) it can be distinguished by its slighter build, smaller size, and lower mid-body scale counts. It co-occurs with the ornate skink but is unlikely to be confused with it due to its much smaller size and lack of the distinctive teardrop marking on the lower jaw.
Distribution
Confined to the northern Aupouri Peninsula and some of its offshore islands (e.g. Motuopao).
Diet
As with other native skinks this species is likely to be omnivorous feeding on small invertebrates found in leaf litter, as well as small fruits.
Ecology and Habitat
A highly cryptic diurnal species, with fossorial (burrowing) habits. On the mainland it tends to occur in association with kauri forests, and other suitably damp habitats, whereas on islands it tends to be associated with dense flaxlands.
Life Expectancy
Unknown.
Social Structure
Solitary.
Breeding Biology
Likely to be ovoviviparous. It is assumed that it has a similar reproductive output to the closely related copper skink (Oligosoma aeneum) e.g. Up to 4 live young born January-March.
Disease and threats
The major threats for this species come in the form of predation by mammalian pests (rats, mice, hedgehogs, possums, and feral cats), as well as habitat degradation, and clearance.
References
van Winkel, D., Baling, M., & Hitchmough, R. (2018). Reptiles and Amphibians of New Zealand: A Field Guide. Auckland University Press, pp 376.