Oligosoma townsi
Oligosoma townsi
Hauraki skink
Oligosoma townsi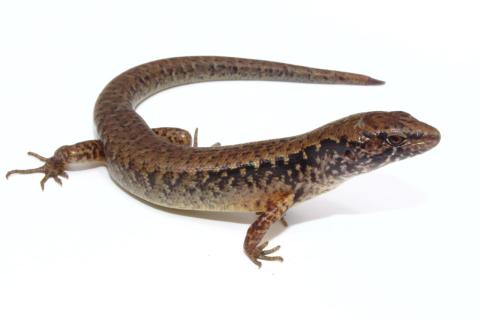 Image attribution
Hauraki skink (Hauturu / Little Barrier Island).
© Tim Harker
Herpetofaunal category
NZ Skinks
Conservation Status
At Risk - Recovering
Previous scientific names
Common names
Hauraki skink,
Town's skink.
Length: SVL up to 95mm, with the tail being equal to the body length
Weight: unknown
Description
A beautiful skink restricted to several islands within the Hauraki Gulf. It is closely related to the marbled skink (Oligosoma oliveri) of the Poor Knight Islands, and the Coromandel skink (Oligosoma pachysomaticum) which is restricted to several islands off the eastern side of the Coromandel Peninsula. The upper surfaces range from dark brown through to tan brown, with cream and black flecking. The lateral surfaces are heavily blotched with black particularly over the front half of the body, with cream or white flecking. Lower surfaces are cream, grey, or light orange, black flecking is heavy on the throat fading onto or absent from the stomach. As with the other members in the marbled skink complex a distinctive black-edged teardrop is present, as well as a denticulate pattern.
Identification
Geographically isolated from the closely related marbled, Whitaker's skink (Oligosoma whitakeri), and Coromandel skinks (Oligosoma pachysomaticum). Differentiated from ornate skinks by the heavy dark blotching on the lateral surfaces, as well as by the much larger size and more robust build.
Distribution
Confined to several islands in the Hauraki Gulf including the Barrier islands, Hen and Chicken group, and the Mokohinau group.
Diet
As with other native skinks, this species is likely to be omnivorous feeding on invertebrates, and small fruits.
Ecology and Habitat
A nocturnal species that occurs in coastal, and lowland habitats. It may utilise seabird burrows as refugia.
Life Expectancy
Unknown.
Social Structure
Solitary.
Breeding Biology
Viviparous. Reproductive biology unknown.
Disease and threats
The vast majority of populations occur on pest-free islands, however, the population occurring on Great Barrier Island/Aotea, is exposed to mammalian pests (rats, feral cats, pigs etc.), and habitat degradation that has resulted in the population becoming severely compromised.
References
van Winkel, D., Baling, M., & Hitchmough, R. (2018). Reptiles and Amphibians of New Zealand: A Field Guide. Auckland University Press, pp 376.