Oligosoma Oliveri
Oligosoma oliveri
Marbled skink
Oligosoma oliveri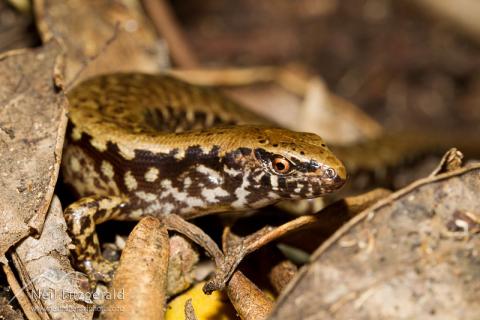 Herpetofaunal category
NZ Skinks
Conservation Status
At Risk - Relict
Previous scientific names
Common names
Marbled skink,
Oliver's skink.
Length: SVL up to 116mm, with the tail being equal to or longer than the body length
Weight: unknown
Description
Dorsal surface light to dark olive brown, often speckled, with no prominent stripe along the mid-line. Some individuals have copper coloured edges along the back in for forehalf of body. Flanks above forelimbs either very dark, or dark grey with heavy black and white speckling. Belly pale yellow or with a faint red tinge, usually speckled; white throat with heavy speckling or streaks. The head sports a 'tear-drop' marking under each eye (white with black edging); tear-drop sometimes joins a set of denticular markings along the lips. Tail is short and thick, tapering abruptly.
Marbled skink may be confused with Whitaker's skink (Oligosoma whitakeri): the belly of marbled skink are usually heavily flecked whereas Whitaker's skink usually have unmarked or lightly flecked bellies; Whitaker's skink usually have a distinctly yellowish or orange hue to the belly.
Marbled skink are difficult to distinguish from Aorangi skink (Oligosoma roimata); the black markings on the sides of the neck are usually less extensive in Aorangi skink.
Life expectancy
Largely unknown.
Distribution
Marbled skink are restricted to the Poor Knights Islands off the coast of Northland.
Ecology and habitat
Marbled skink are nocturnal, foraging occasionally in daylight hours and rarely sun-basking. The species inhabit leaf litter in coastal and forest scrub.
Social structure
Largely unknown.
Breeding biology
Marbled skink are ovoviviparous giving birth to litters of 2-4 young in March/April.
Diet
Invertebrates and fruit including berries of Coprosma, Macropiper excelsum (kawakawa), and Solanum nodiflorum (small flowered knightshade).
Disease
Ophionyssus mites have been recorded as ectoparasites of marbled skink.
Conservation strategy
DOC classify marbled skink as 'relict' with a population of >20,000 mature individuals and a population that is stable or increasing at a rate >10%.
Interesting notes
Named after the former Director of the Dominion Museum, Dr W.R.B. Oliver; also known as Oliver's skink.
The taxonomy of marbled skink has been debated for a number of years with genetic research published in 2008 concluding that populations within the Mercury, Alderman, and Poor Knights Islands all belong within the Oligosoma oliveri species. The data also suggested that the Mokohinau, Hen and Chicken, Little and Great Barrier Island populations be designated a new species: O. townsi, and that O. whitakeri are part of the O. oliveri species group. Populations within the Mercury and Alderman Islands were re-validated as a separate species - O. pachysomaticum, the Coromandel skink - by Jewell (2019). 
References
Chapple, D.G., Patterson, G.B., Gleeson, D.G., Daugherty, C.H., & Richie, P.A. (2008). Taxonomic revision of the marbled skink (Cyclodina oliveri, Reptilia: Scincidae) species complex, with a description of a new species. New Zealand Journal of Zoology, 35, 129 – 146.
Gill, B.J., & Whitaker, A.H. (2007). New Zealand frogs and reptiles. Auckland: David Bateman Limited.
Hitchmough, R.A., Barr, B., Lettink, M., Monks, J., Reardon, J., Tocher, M., van Winkel, D., Rolfe, J. (2016). Conservation status of New Zealand reptiles, 2015; New Zealand threat classification series 17. Wellington: New Zealand Department of Conservation.
Jewell, T. (2011). A photographic guide to reptiles and amphibians of New Zealand. Auckland: New Holland Publishers.
Jewell, T. R. (2019). New Zealand forest-dwelling skinks of the Oligosoma oliveri (McCann) species-complex (Reptilia: Scincidae): reinstatement of O. pachysomaticum (Robb) and an assessment of historical distribution ranges. Zootaxa, 4688 (3), 382–398. doi: https://doi.org/10.11646/zootaxa.4688.3.5
Whitaker, A.H. (1987). The roles of lizards in New Zealand plant reproductive strategies. New Zealand Journal of Botany, 25, 2, 315-328.