Previous scientific names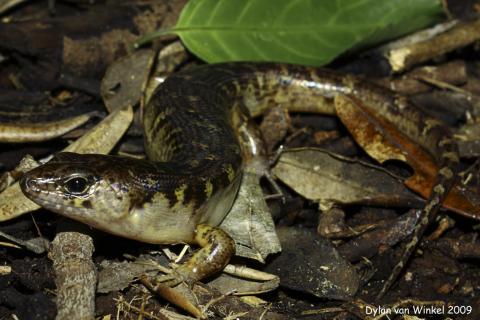 Description
A large (up to 142 mm snout to vent) and thickset skink with short limbs and toes (northern individuals of the species are particularly robust). Dorsal (upper) surface mid to dark brown or pinkish brown with a series of irregular large blotches. Blotches are usually pale cream to yellow/brown, sometimes with a dark brown edge. Flanks are light grey to grey brown with blotches of a similar appearance to those on the back, Some individuals also have black and white markings above the shoulders. Belly colour ranges from yellow to a vivid reddish pink, sometimes with dark flecks. Throat cream, often with dark flecks. A yellow, black edged 'tear drop' is present below each eye. Robust skink have blunt snouts and large dark eyes. The base of the tail is very thick and tapers abruptly.
Life expectancy
Up to 30 years.
Distribution
Once widespread throughout the North Island, robust skink are now confined to a few islands from the Bay of Plenty to Aupouri Peninsula.
Ecology and habitat
A nocturnal species which inhabits thick leaf litter in low coastal forest. Robust skink also live in and around seabird burrows as well as under logs and rocks in scrublands. Robust skink are vulnerable to water loss through the skin so prefer damp areas.
Social structure
Largely unknown.
Breeding biology
Robust skink give birth to litters of up to seven young in May/June, with timing variable depending on weather/seasonal conditions (D. Keall, personal communication, October 6, 2016).
Diet
Small insects and crustaceans.
Disease
Largely unknown.
Conservation strategy
Robust skink are classified by DOC as 'recovering'. DOC have a recovery plan in place for the species, click here to read more.
References
Gill, B.J., & Whitaker, A.H. (2007). New Zealand frogs and reptiles. Auckland: David Bateman Limited.
Hitchmough, R.A., Barr, B., Lettink, M., Monks, J., Reardon, J., Tocher, M., van Winkel, D., Rolfe, J. (2016). Conservation status of New Zealand reptiles, 2015; New Zealand threat classification series 17. Wellington: New Zealand Department of Conservation.
Jewell, T. (2011). A photographic guide to reptiles and amphibians of New Zealand. Auckland: New Holland Publishing.
Towns, D. (1992). Recovery plan for Whitaker's skink and robust skink. Retrieved October 18, 2016 from http://www.doc.govt.nz/Documents/science-and-technical/TSRP03.pdf