Previous scientific names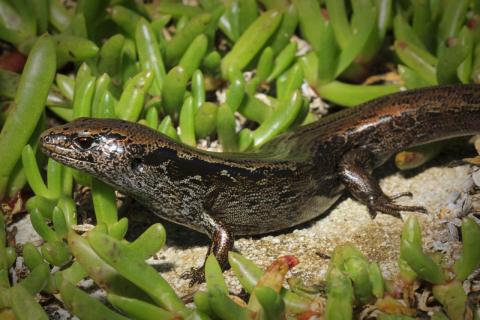 Description
A large (up to 112 mm snout to vent) and thick set skink. Dorsal (upper) surfaces are light to dark brown, either uniform or with long streaks (either paler or darker than the base colour). Flanks grey brown with irregular black markings and numerous pale streaks or blotches (often with a dark edge), which merge into a dark area above the forelimbs. Belly yellow to pink, either uniform or with dark flecks; throat cream coloured, sometimes with a spattering of dark flecks. A pale, black outlined tear drop is seen under each eye.
Life expectancy
Ages of over ten years recorded for wild animals. Captive animals have been reported to live 35+ years (D. Keall, personal communication, October 6, 2016).
Distribution
Originally found throughout the North Island, McGregor's skink are now restricted to a few islands (Mana Island, Sail Rock, Bream and Cavalli Islands, Lady Alice and Whatupuke Islands).
Ecology and habitat
A crepuscular or nocturnal species which inhabit leaf litter in coastal forests and shrubland. Also found in seabid burrows and boulder banks.
Social structure
Aggressively territorial.
Breeding biology
McGregor's skink are ovoviviparous, giving birth to litters of up to six in late summer to early autumn (D. Keall, personal communication, October 6, 2016).
Diet
McGregor's skink are insectivorous. As with other native skinks, they probably also consume fruits.
Disease
Largely unknown.
Conservation status and strategy
McGregor's skink population numbers were heavily impacted by mammalian predators. DOC have a recovery programme in place for the Oligosoma skinks and list the species as 'recovering'.
McGregor's skink have been translocated to two predator free islands: Lady Alice and Whatupuke Islands.
References
Gill, B.J., & Whitaker, A.H. (2007). New Zealand frogs and reptiles. Auckland: David Bateman Limited.
Hitchmough, R.A., Barr, B., Lettink, M., Monks, J., Reardon, J., Tocher, M., van Winkel, D., Rolfe, J. (2016). Conservation status of New Zealand reptiles, 2015; New Zealand threat classification series 17. Wellington: New Zealand Department of Conservation.
Jewell, T. (2011). A photographic guide to reptiles and amphibians of New Zealand. Auckland: New Holland Publishing Ltd.
Newman, D.G. (1994) Effects of a mouse, Mus musculus, eradication programme and habitat change on lizard populations of Mana Island, New Zealand, with special reference to McGregor's skink, Cyclodina macgregori. New Zealand Journal of Zoology, 21, 443-456.
Towns, D.R. (1999) Cyclodina Spp. Skink Recovery Plan 1999-2004. Threatened Species Recovery Plan 27. Department of Conservation, Wellington, New Zealand.