Oligosoma suteri
Oligosoma suteri
Egg-laying skink
Oligosoma suteri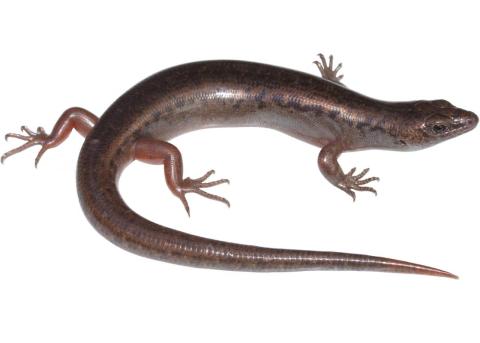 Herpetofaunal category
NZ Skinks
Conservation Status
At Risk - Relict
Previous scientific names
Leiolopisma suteri,
Lygosoma suteri,
Robbisaurus suteri.
Common names
Egg-laying skink,
Diving skink,
Suter's skink.
Length: SVL up to 126mm, with the tail being equal to or longer than the body length
Weight: up to 15.8 grams
Description
A medium to large skink with a thickset body reaching SVLs (snout-vent-lengths) of 70-126mm, the largest individuals being found on the Three Kings Islands. Dorsal (upper) surface colour ranges from straw brown to dark brown/black; flank colours range from grey to black. Dorsal surface and flanks often have black mottling or spots. Ventral (lower) surface grey, sometimes with pink or bright orange hues, some individuals have black spots. Occasional individuals are entirely black. The torso is oval in cross section. Snouts particularly slender and oval in shape, cheeks may appear swollen when viewed from above.
Life expectancy
Largely unknown.
Distribution
East coast of the North Island from Coromandel Peninsula north to the Three Kings Islands. There are currently only a handful of sites where the species are present on the mainland, with most relegated to offshore islands as a result of introduced predators.
Ecology and habitat
Beaches with boulders and shingle, can be found in rocky platforms in the splash zone. A nocturnal species which will sunbask, retreating amongst rocks and seaweed if threatened. Will forage below the high tide mark and under water in rock pools. Egg laying skink are capable of remaining under water for more than 20 minutes.
Social structure
Egg laying skinks live in small groups, females may share nests.
Breeding biology
The only New Zealand lizard which lays eggs, a trait which is unusual given the potential for flooding of nest sties within their habitat. Clutches of 3-6 eggs laid in December/January, hatching in March/April. Eggs are leathery and white, ~15x10mm. Egg laying skink have one of the longest development periods recorded for skink, taking a total of 5 months from ovulation to hatching.
Diet
A carnivorous skink which consumes items such as land snails including amphipods and isopods which are abundant in seaweed which has washed ashore.
Disease
Endoparasites recorded include the nematode Skrjabinodon trimorphi; ectoparasites include mites of the Ophionyssus species.
Conservation strategy
DOC classify egg laying skink as 'relict' with a population > 20,000 individual, with the population stable or a increasing at >10%.
DOC have a recovery programme in place for the Oligosoma skink group.
References
Gill, B.J., & Whitaker, A.H. (2007). New Zealand frogs and reptiles. Auckland: David Bateman Ltd.
Hitchmough, R.A., Barr, B., Lettink, M., Monks, J., Reardon, J., Tocher, M., van Winkel, D., Rolfe, J. (2016). Conservation status of New Zealand reptiles, 2015; New Zealand threat classification series 17. Wellington: New Zealand Department of Conservation.
Jewell, T. (2011). A photographic guide to reptiles and amphibians of New Zealand. Auckland: New Holland Publishers Ltd.
Morris, R., & Ballance, A. (2008). Rare wildlife of New Zealand. New Zealand: Random House New Zealand.
Robb, J. (1980). New Zealand reptiles and amphibians in colour. Auckland: Williams Collins Publishers Ltd.
Towns, D.R. (1975). Reproduction and growth of the black shore skink, Leiopisma suteri (Lacertilia: Scinidae) in north-eastern New Zealand. New Zealand Journal of Zoology, 2, 4, 409-423.
van Winkel, D., Baling, M. & Hitchmough, R. (2018). Reptiles and Amphibians of New Zealand: A field guide. Auckland: Auckland University Press, 376 pp.