Tukutuku rakiurae
Tukutuku rakiurae
Harlequin gecko
Tukutuku rakiurae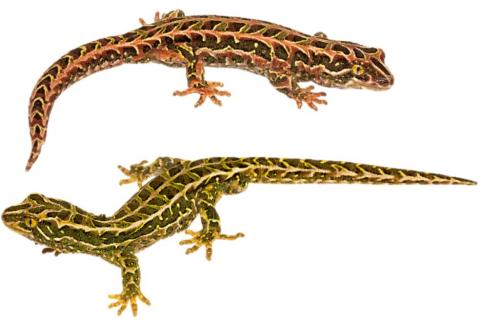 Herpetofaunal category
NZ Geckos
Conservation Status
Threatened - Nationally Endangered
Previous scientific names
Length: SVL up to 71mm, with the tail being equal to or shorter than the body length
Weight: up to 13 grams
Description
A distinctive and intricately patterned gecko from the far south of New Zealand.
Dorsal (upper surface) is brown, bright green, or olive green with highly distinctive herringbone patterns; orange brown or orange red shadings make up a complex pattern which usually has a network of fine white and/or grey lines. The ventral (lower surface) is pale brown/grey with specks of brown or green giving a mottled appearance. The mouth of harlequin gecko is distinctive with the floor of the mouth being pink or grey while the roof of the mouth is dark grey or blue with a grey/indigo tongue. Eyes are bright yellow.
Harlequin geckos reach up to 71mm SVL (snout-vent-length) with a tail length ≤ SVL. The rostral scale touches the nostrils, canthal scales are conical in shape (although some juveniles do not have conical scales). The species have narrow toes without wide pads; the apical plates on toes are enlarged with straight lamallae.
Life expectancy
Largely unknown.
Distribution
The Harlequin gecko is probably the most southerly of the New Zealand geckos and is found only in the southern parts of Stewart Island.
Ecology and habitat
Harlequin geckos inhabit often windswept wetland, shrubland, and rocky outcrops across a wide altitudinal range (from sea level to subalpine).
They are a terrestrial (ground-dwelling) and nocturnal species but are known to sun bask on warm sunny days.
Social structure
Largely unknown. If disturbed Harlequin gecko make soft chirruping calls or a loud squeal. On warm afternoons they can sometimes be heard making loud calls, with males making a harsh chittering sound.
Breeding biology
Harlequin gecko are viviparous and have a long gestation, giving birth to one or two young every second or third year in late summer.
Diet
Nectar and invertebrates.
Disease
Nematode endoparasites have been recorded in Harlequin gecko. In captivity animals have been recorded as having Pseudomonas and Proteus bacteria and forms of fungi.
Conservation strategy
DOC classifiy harlequin gecko as 'Threatened - Nationally endangered'. DOC have a conservation strategy in place for Stewart Island and Rakiurae National Park.
Interesting notes
The species is named after Rakiura (the Maori name for Stewart Island).
References
Gill, B., & Whitaker, T. (2007). New Zealand frogs and reptiles. Auckland: David Bateman Limited.
Hitchmough, R., Barr, B., Knox, C., Lettink, M., Monks, J. M., Patterson, G. B., Reardon, J. T., van Winkel, D., Rolfe, J., & Michel, P. (2021). Conservation status of New Zealand reptiles, 2021. New Zealand threat classification series 35. Wellington: New Zealand Department of Conversation.
Hitchmough, R.A., Barr, B., Lettink, M., Monks, J., Reardon, J., Tocher, M., van Winkel, D., Rolfe, J. (2016). Conservation status of New Zealand reptiles, 2015; New Zealand threat classification series 17. Wellington: New Zealand Department of Conservation.
Jewell, T. (2011). A photographic guide to reptiles and amphibians of New Zealand. Auckland: New Holland Publishers.
McFarlane, L. M. (2007). The habitat use and ecology of the harlequin gecko (Hoplodactylus rakiurae) (Doctoral dissertation, Lincoln University).
Nielsen, S. V., Bauer, A. M., Jackman, T. R., Hitchmough, R. A., & Daugherty, C. H. (2011). New Zealand geckos (Diplodactylidae): cryptic diversity in a post-Gondwanan lineage with trans-Tasman affinities. Molecular Phylogenetics and Evolution, 59(1), 1-22.
O'Donnell, C. F., Weston, K. A., & Monks, J. M. (2017). Impacts of introduced mammalian predators on New Zealand's alpine fauna. New Zealand Journal of Ecology, 41(1), 1-22.
Southland Conservacy (DOC). (2012). Stewart Island/Rakiurae conservation management strategy and Rakiurae national park management plan. Invercargill: DOC.
Thomas, B.W. (1980). Hoplodactylus rakiurae n. sp. (Reptilia : Gekkonidae) from Stewart Island, New Zealand, and comments on the taxonomic status of Heteropholis nebulosus. New Zealand Journal of Zoology, 8, 33-47.
van Winkel, D., Baling, M. & Hitchmough, R. (2018). Reptiles and Amphibians of New Zealand: A field guide. Auckland: Auckland University Press, 376 pp.
Vickers, M. (1983). Report on the Harliquin [sic] geckos received 13.6.83: Mr B. Thomas, Nelson. (Unpublished report 3p). Palmerston North: Ministry of Agriculture & Fisheries, Palmerston North.