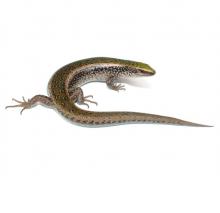 Reptiles this care guide covers
Green skinks comprise four closely related and regionally distributed species, occurring in the Otago and Southland regions of the South Island.
These species have proven relatively difficult to maintain in captivity. The main challenge they have posed is high levels of intraspecific aggression, which has made it difficult to cohabit individuals for the purpose of breeding. They may also be reluctant to breed in areas outside of their native range.
Green skinks may be held on second level permits (Insurance population species).