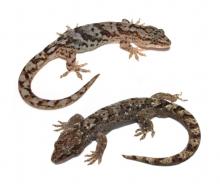 Reptiles this care guide covers
Geckos from the genus Woodworthia were formerly regarded as a single highly variable species - the 'common' gecko (Hoplodactylus maculatus). Genetic work has show that this group comprises over a dozen species which are regionally distributed around New Zealand.
'Common' geckos have proven relatively hardy in captivity, but are strictly nocturnal so keepers are most likely to observe them out at night or (rarely) cryptically basking near a retreat.
The two most commonly occurring species in captivity are the Raukawa gecko (Woodworthia maculata) and Waitaha gecko (Woodworthia cf. brunnea). Care should be taken to discern which species you hold and they should not be kept with other species of Woodworthia geckos, as they have been known to hybridise in captivity.