Woodworthia cf. brunnea
Woodworthia cf. brunnea
Waitaha gecko
Woodworthia cf. brunnea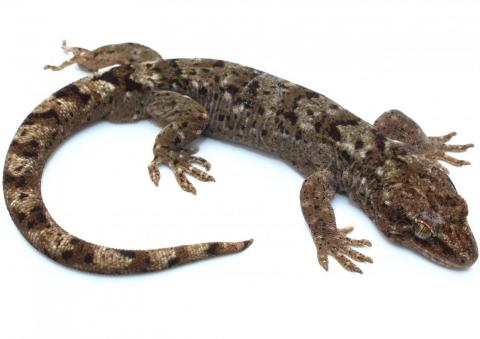 Herpetofaunal category
NZ Geckos
Conservation Status
At Risk - Declining
Previous scientific names
Common names
Waitaha gecko,
Brown gecko,
Canterbury gecko.
Length: SVL up to 80mm, with the tail being equal to the body length
Weight: unknown
Description
A small to medium sized gecko reaching SVL (snout-vent-length) of up to 80mm; tail length is usually the same as SVL. Dorsal (upper) surface brown, although some individuals are grey or olive. Dorsal surface marked with bright chevron stripes, blotches, transverse bands, or longitudinal stripes. Large dark patches are common, particularly on the tail (if intact). Ventral (lower) surface commonly pale and uniform in colour, with occasional individuals sporting a spotted belly.
Waitaha geckos have large greenish, brown, or bright yellow eyes. The lower surfaces of the mouth and tongue are pink, the tongue tip is a diffuse grey. The rostral scale contacts or virtually contacts the nostrils. Toes have 9-12 lamellae.
Individuals in dune habitats tend to be smaller compared to those inhabiting forests and bluffs.
Click here for more information about how Waitaha gecko differ in appearance to other species within the Woodworthia complex.
Life expectancy
Can exceed 53 years in the wild.
Distribution
Banks Peninsula north to southern Marlborough.
Ecology and habitat
Waitaha geckos are lowland generalists, inhabiting a range of habitats including: rocky outcrops, bluffs, rock tumbles, scrubby vegetation and duneland, living and dead forest trees. They are nocturnal, but will sun bask in protected positions exposing only part of their bodies at retreat entrances. The species exhibit high site fidelity with very small home ranges.
Social structure
They are tolerant of conspecifics, often forming aggregations of up to 12 animals.
Breeding biology
Waitaha geckos will have multiple mates. Females are ovoviviparous (give birth to live young), reproducing on an annual basis with a maximum litter size of two.
Diet
Nectar, fruit and invertebrates.
Disease
Waitaha geckos have been recorded with low levels of red mites in the wild.
Conservation status
DOC classify Waitaha geckos as 'At Risk - Declining'.
In 2015 and 2019, Waitaha geckos from areas in the Port Hills where their habitat was being removed, were translocated to Riccarton Bush in Christchurch to establish a new population.
Interesting notes
Waitaha geckos are members of the 'common gecko' complex, a group of closely related species which are regionally distributed throughout New Zealand. Historically, most of these were considered a single highly-variable species - Hoplodactylus maculatus (the so called 'common gecko'). The 'common gecko' has now been separated into over ten different species.
This species was originally described as Pentadactylus brunneus (Cope 1868) and taken to a French museum, but erroneously recorded as from Australia, so the name was widely overlooked in New Zealand. The type specimen was held in Paris by the Musee Jardin des Plantes. The type specimen was then obtained by the Academy of Natural Sciences in Philadelphia as part of an exchange. Scientists eventually identified that this species originated in New Zealand and was common on Banks Peninsula. A French settlement was present in Akaroa during the 19th Century, which may have been why this specimen ended up in France.
References
Freeman, A.B. (1994). An ecological study of the lizard fauna of Kaitorete Spit, Canterbury. Unpublished master's dissertation. Lincoln University: Lincoln, New Zealand.
Gill, B., & Whitaker, T. (2007). New Zealand Frogs and Reptiles. Auckland: David Bateman Limited.
Hitchmough, R.A. (1997). A systematic review of the New Zealand Gekkonidae. Unpublished doctoral dissertation. Victoria University of Wellington: Wellington, New Zealand.
Hitchmough, R.A., Anderson, P., Barr, B., Monks, J., Lettink, M., Reardon, J., Tocher, M., & Whitaker, T. (2012). Conservation status of New Zealand reptiles, in New Zealand Threat Classification Series 2. DOC: Wellington.
Jewell, T. (2011). A photographic guide to reptiles and amphibians of New Zealand. Auckland: New Holland.
McIvor, I.R. (1972). Ecology of a population of Hoplodactylus pacificus, the common New Zealand gecko (Reptilia : Gekkonidae). Unpublished master's dissertation. University of Canterbury: Christchurch, New Zealand.
van Winkel, D., Baling, M. & Hitchmough, R. (2018). Reptiles and Amphibians of New Zealand: A field guide. Auckland: Auckland University Press, 376 pp.