Oligosoma aff. chloronoton "West Otago"
Oligosoma aff. chloronoton "West Otago"
Lakes skink
Oligosoma aff. chloronoton "West Otago"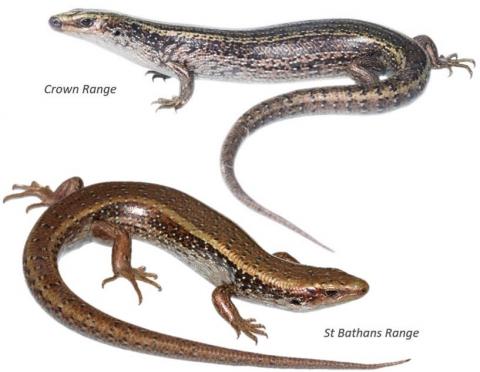 Herpetofaunal category
NZ Skinks
Conservation Status
Threatened - Nationally Vulnerable
Previous scientific names
Length: SVL up to 110 mm, with the tail being longer than the body length
Weight: Unknown.
Description
A beautiful species of large skink in the green skink complex (Melzer et al. 2017) with a snout-vent-length (SVL) up to 110 mm.
Lakes skinks typically have a brown to green dorsal surface that is flecked with pale ocelli, which are often edged with black. This species also typically possesses cream to brown dorsolateral stripes and prominent brown lateral bands running from the snout to the rear legs. The ventral surface is typically uniform pale grey or white.
Life expectancy
Unknown.
Distribution
Found south of the Pukaki river in South Canterbury, throughout much of Western Otago (particularly the Southern Lakes District), and inland western Southland (e.g. Eyre Mountains and Tākitimu Mountains).
Ecology and habitat
Lakes skinks are a diurnal heliothermic species, however, they will often bask cryptically under vegetation. They are terrestrial/ saxicolous, and typically inhabit lowland or alpine tussock grassland, riverine debris (eroded stone), and screes/talus with woody vegetation (van Winkel et al. 2018; Jewell 2008). They are often associated with very damp basins and gullies. Lakes skinks feed on a variety of invertebrates and probably the berries and fruits of small plants.
Social structure
Unknown.
Breeding biology
Little is known about their reproductive behavior; however they are probably annual breeders (at least in lowland areas). Gravid females have also been reported in February (van Winkel et al. 2018).
Diet
Largely insectivorous, although presumably feeds on fruits and nectar sources. 
Disease
Unknown
Conservation strategy
This species is not currently being managed. 
Interesting notes
Lakes skinks are members of the green skink species complex. 'Green skinks' are a group of four closely-related species which are difficult to distinguish morphologically (based on appearance) and were originally regarded as one variable and widely distributed species - Oligosoma chloronoton (of which the Green skink / Southland green skink will retain the scientific name). Green skinks are regionally distributed from the Otago region through to Stewart Island. Other species include the Green skink / Southland green skink (Oligosoma chloronoton), Otago green skink (Oligosoma aff. chloronoton "Eastern Otago")and the Stewart Island green skink (Oligosoma aff. chloronoton "Stewart Island").
References
Jewell, T. (2008). A photographic guide to reptiles and amphibians of New Zealand. Auckland: New Holland.
Melzer, S. A., Bell, T., & Patterson, G. B. (2017). Hidden conservation vulnerability within a cryptic species complex: taxonomic revision of the spotted skink (Oligosoma lineoocellatum; Reptilia: Scincidae) from New Zealand. Zootaxa, 4300(3), 355-379.
van Winkel, D., Baling, M., Hitchmough, R. 2018. Reptiles and amphibians of New Zealand – a field guide. Auckland university press, Auckland New Zealand.