Woodworthia chrysosiretica
Woodworthia chrysosiretica
Goldstripe gecko | Moko mangaeka
Woodworthia chrysosiretica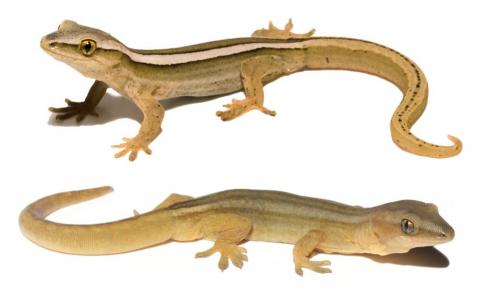 Herpetofaunal category
NZ Geckos
Conservation Status
At Risk - Declining
Previous scientific names
Hoplodactylus chrysosireticus
Common names
Goldstripe gecko,
Moko mangaeka
Length: SVL up to 80mm, with the tail being equal to the body length
Weight: up to 13.5 grams
Description
A slender bodied gecko which reach SVL (snout-vent-length) of 70-80mm; stout tail typically shorter than SVL. Dorsal (upper) surface colour ranges from olive green/yellow green to brown with dark longitudinal stripes running the length of the body. Lighter colours divide the dark stripes, sometimes with flecks. Two pale stripes (occasionally bright white) typically run along the torso coming together at the base of the tail. A prominent straight canthal stripe is bordered on the lower side by a dark streak running from the nostril to the eye. Ventral (lower) surface pale, sometimes with fine dark speckled marks on the tail and torso. Some individuals have a salmon pink colour on the ventral surface of the tail. Interestingly individuals are known to change the intensity of the base body colour, but not the colour of stripes.
The mouth cavity is pink, with the tongue turning a darker shade when eating. Eyes are light brown/hazel. Rostral scale does not extend to nostrils. The sexes can be distinguished with males having one enlarged blunt scale on each side of the base of the tail. Toes have widely expanded pads with 12-18 lamellae.
Click here for more information on how goldstripe gecko differ from other species within the Woodworthia group.
Life expectancy
Unknown.
Distribution
From coastal Taranaki from Waitara to Patea, Also known from Mana Island and Kapiti Island (near Wellington).
Ecology and habitat
Forest and scrubland, often found in flax. A lowland arboreal generalist, goldstripe gecko can be found in coastal vegetation, gardens, and farmland. Goldstripe gecko are nocturnal but will sunbask.
Social structure
Goldstripe gecko live in solitude or in pairs and have high site fidelity. Captive goldstripe gecko will squeak quietly when agitated.
Breeding biology
Goldstripe gecko are ovoviviparous giving birth to twins annually in February/March.
Diet
Terrestrial invertebrates and nectar. They are considered to have a strong association with flax. In captivity goldstripe gecko will eat moths, flies, earwigs, and slaters.
Disease
Largely unknown.
Conservation status
DOC classify the species as 'At Risk - Declining'.
Interesting notes
The species name is derived from the Greek 'chrysos' (gold) and 'seiretion' (stripe).
The Goldstripe gecko along with its sister species the Short-toed gecko sits at the base of the Woodworthia genus, sharing a common ancestor with both the Southern and Northern clades.
References
Flannagan, H.J. (2000). Conservation biology of the goldstripe gecko (Hoplodactylus chrysosireticus) and interactions with Duvaucel's gecko (Hoplodactylus duvaucelii) on Mana Island, Cook Strait, New Zealand. Unpublished master's dissertation. Massey University: Palmerston North, New Zealand.
Gartrell, B. D., Ahn, J. Y., Khude, R., Dougherty, N., Johnson, K., McCutchan, J., Clarke, A., & Hunter, S. (2020). Thermal burns of the spectacle associated with supplementary heating in native New Zealand geckos. New Zealand veterinary journal, 68(2), 126-133.
Gill, B., & Whittaker, T. (2007). New Zealand frogs and reptiles. Auckland: David Bateman Limited.
Gollin, J. F., Gorman, N., & Armstrong, D. P. (2021). Twenty years on. New Zealand Journal of Ecology, 45(1), 1-9.
Hitchmough, R.A., Barr, B., Lettink, M., Monks, J., Reardon, J., Tocher, M., van Winkel, D., Rolfe, J. (2016). Conservation status of New Zealand reptiles, 2015; New Zealand threat classification series 17. Wellington: New Zealand Department of Conservation.
Hitchmough, R., Barr, B., Knox, C., Lettink, M., Monks, J. M., Patterson, G. B., Reardon, J. T., van Winkel, D., Rolfe, J., & Michel, P. (2021). Conservation status of New Zealand reptiles, 2021. New Zealand threat classification series 35. Wellington: New Zealand Department of Conversation.
Jewell, T. (2011). A photographic guide to reptiles and amphibians of New Zealand. Auckland: New Holland Publishers.
Nielsen, S. V., Bauer, A. M., Jackman, T. R., Hitchmough, R. A., & Daugherty, C. H. (2011). New Zealand geckos (Diplodactylidae): cryptic diversity in a post-Gondwanan lineage with trans-Tasman affinities. Molecular Phylogenetics and Evolution, 59(1), 1-22.
Robb, J. (1980). New Zealand reptiles in colour. Auckland: Collins.
Robb, J. (1980). Three new species of gekkonid lizards, genera Hoplodactylus Fitzinger and Heteropholis Fischer, from New Zealand. National Museum of New Zealand Records 1, 19, 305-310.
van Winkel, D., Baling, M. & Hitchmough, R. (2018). Reptiles and Amphibians of New Zealand: A field guide. Auckland: Auckland University Press, 376 pp.
Wilkinson, W.D. (1977). Observations of the 'Taranaki gold stripe gecko' (Hoplodactylus sp.). Pepeke 2, 1, 13-15.
Wilkinson, W.D. (1981). The status of the Taranaki gecko Hoplodactylus chrysosireticus in the New Zealand herpetofauna Herpetofauna (Aust.), 13, 1, 18-20.